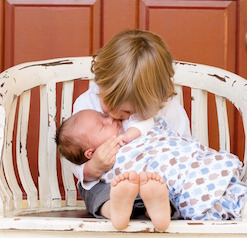 Are Human Beings Selfish or Loving?
I thought about the question, Are human beings selfish?, when I received this snippet of an article from a friend: "Advocates of capitalism understand, as the classical economists understood centuries ago, that government and social institutions must be designed for the human beings that actually exist — callous self-interest and all." That thought, from The Mises Institute, a capitalistic/libertarian think tank, is making a fair point that can be examined to see how fully and completely true it is. That is what I will do in this blog. As a sneak peek, my answer to the question, Are human beings selfish? will be "Yes, to some degree, but not to the exclusion of all other high values."
To counter the affirmative and exclusive answer to the question, Are human beings selfish?, I would first offer this Fred ("Mr.") Rogers quote: "We live in a world in which we need to share responsibility. It's easy to say, 'It's not my child, not my community, not my world, not my problem.' Then there are those who see the need and respond. I consider those people my heroes." Boy, do I love that man!
Indeed, for every ten people who are crudely self-interested (not some kind of rarefied, individualistic vigor — just plain selfish pricks) — you have a Mr. Rogers, who will share and help and be modest and contented. Jimmy Carter and Dorothy Day exist, alongside Donald Trump and Bernie Madoff. So human nature is both self-centered and pro-egalitarian in nature. We, as a society, ought to foster one more than the other at this tumultuous time. Unfortunately, our leaders tend to communicate the message "Being solipsistic and self-aggrandizing and Machiavellian is only natural!"
TseKung asked: 'Is there one word which may serve as a rule of practice for all one's life?'
The Master said: 'It is the word shu — reciprocity: Do not do to others what you do not want them to do to you.' ~ Confucius
My friend offered this pretty fair encapsulation of human nature, as I see the matter: "Dividing into two and only two ideologies of accepting human nature or denying human nature dies little more than create opposing factions which never promotes cooperation, peace, unity, understanding or healing. Realizing that some of each is needed by each of us goes a long way towards accepting those different from ourselves — whether that be racial, gender, cultural, historical, or ideological."
It is amazing how divisive and powerful ideology is nowadays. People self-select and ostracize others based on political and religious ideology more than anything. In fact, I think "conservatives" actually love to see an African-American conservative. That's why the two or three at a Make America Great Again (what I call "Make America Orwellian Again") rally get placed front and center, where the camera will be sure to capture them in all their ethnic glory!
BONUS: Key and Peele sketch about black Republicans
I think what my friend writes is fair. Think of hunting back in the prehistoric days: one could not do it alone, and one male could not claim to deserve half of a community-proffered kill. But, everyone participated in all aspects of a big game kill because all wanted to eat. Some were more highly honored — the male with the strongest and most accurate spear-throwing ability, or courage, or agility — but he couldn't quarry it, skin it, transport it, or cook it alone. Thus, human beings evolved to be somewhat cooperative. There was always a balance of self-concern and a willingness to set aside purely egocentric motives for the purposes of fitting into a complex and large social network. 
"Be the change you wish to see in the world." ~ paraphrased, Mohandas K. Gandhi
"Alpha males" have some ability to garner a larger share of rewards and goods and benefits based on physical strength and prowess. But three average men could best a leader who was self-aggrandizing and egocentric in the extreme. It's a delicate balance between following and cooperating on the one hand, and aiming for higher status on the other. We see this in prides of lions and communities of humans.
Once there is general agreement that the answer to the question, "Are human beings selfish?" is "Somewhat; it depends; in a way, yes", the issue to focus on is how we nurture the side of human nature that is loving, cooperative, modest, prosocial, altruistic, empathic, nurturing, and peaceful. That is clearly more required nowadays than a hyperindividualistic, pathologically self-centered way of being.
We see that latter type exemplified to a T in Donald Trump. We also see that about 100,000,000 Americans buy into his shtick. They are not insightful and open-minded and liberal enough to see the wool being pulled over their eyes. Trump is akin to the Big Bad Wolf of fairy tale lore more than some kind of Knight in Shining Armor who arrived one day to exile a corrupt King and Queen. He is a jackal, a traitor, a devil, a tycoon more than a hero. It's only a bizarre accident of hyperpartisanship, political wantonness, the decay of countervailing institutions like the media and higher education, and economic stressors present since the days of Jimmy Carter that have allowed a human bedbug like Trump to suck our collective blood for this long. Obviously, something is wrong with the system when Russia and other kinds of skullduggery propel an unethical businessperson into office, after which time a whirlwind of Machiavellianism and subterfuge and Orwellianism and treachery ensue. The founding fathers, such as Hamilton, made impeaching a defective and destructive demagogue such as Trump explicit, noting that he (of course it would be a he) must be stopped before he becomes a tyrant.
Keep me away from the wisdom which does not weep, the philosophy which does not laugh, and the greatness which does not bow before children. ~ Kahlil Gibran
Here is a piece about impeaching a president. It cites this House of Representatives document. Herein:
Impeachment comes from British constitutional history. The process evolved from the 14th century as a way for parliament to hold the king's ministers accountable for their public actions. Impeachment, as Alexander Hamilton of New York explained in Federalist 65, varies from civil or criminal courts in that it strictly involves the "misconduct of public men, or in other words from the abuse or violation of some public trust." Individual state constitutions had provided for impeachment for "maladministration" or "corruption" before the U.S. Constitution was written. And the founders, fearing the potential for abuse of executive power, considered impeachment so important that they made it part of the Constitution even before they defined the contours of the presidency.
As usual, the clear and present danger presented by the wolf in sheep's clothing, protected by 53 Republican Senators (minus Mitt Romney, a man of surprising conscience) and 100,000,000 duped Americans, commands far more of my attention than is comfortable! I apologize.
My main thrust is the question, Are human beings selfish? Again, the issue to focus on is how we nurture the side of human nature that is loving, cooperative, modest, prosocial, altruistic, empathic, nurturing, and peaceful. This is critical because the Trumps and the Hitlers and the Kenneth Lays and the Xi Jinpings and the Mark Zuckerbergs of the world have left their marks on  it in spades. They took a huge, indelible marker and in the inimitable style of Trump signing an official document with that goddamned Sharpie, virtually ruined it. Instead of the quill of Benjamin Franklin, we have the egotistical scrawling of The Donald. People like him have had more than their fair share of the mammoth we all cooperated to kill, so to speak.
The ordinary understanding of charity is giving things to others, but as you can see, the Buddhist point of view is that material giving is not necessarily charity. True charity has to do with the mind; giving mentally. The practice of giving is training the mind to overcome miserliness. Miserly attachment is in the mind, therefore, the antidote must also be mental. ~ Lama Yeshe
So, in sum, we must bolster and support and nurture the side of humanity that is not selfish and self-centered. When a boy takes a toy from another boy, causing the disenfranchised kid to cry, we ought to do two things. One, we should teach the aggressor that he is accessing some part of his genetic heritage, but that we as a society spurn aggressiveness because too many people, institutions, and ecosystems have been ravaged by grown-up boys who feel they deserve all the toys. Two, we ought to also take the "teaching moment" to socialize the loser of said toy that the world is an unfair, sometimes disturbing place; not everyone gets a trophy; and thus, a certain toughness and resiliency is required to succeed in this life.
With girls, the message is that yes, human beings can be selfish, and they can also be vindictive, ostracizing, and cruel. That kind of behavior is not how girls should behave, I think, is the message. We always want to show a lofty example, a paragon of humanity, if you will, when a child greatly misses the mark. If we fail, sociopaths and hucksters and wantonly vicious men result. I think literally some people were just never shown classy, respectful, self-disciplined, excellent models when they were growing up, and so they develop into poor, marginal, tragic, ignorant, selfish jerks. I watch the show "Cops" and crime shows all the time; it's abundantly clear that Americans can get lost anywhere along the way. Parents, pastors, and society's leaders have the high charge of seeing to it that goodness, character, and benevolence crowd out the malignant selfishness that lies dormant just below the surface in every person. If they are born poor, drug-addicted, or disabled, the route to the top of the mountain is perilous and rocky, and that is something that should concern us all (note this, libertarians!).
The superior man understands righteousness; the inferior man understands profit. ~ Confucius
I am absolutely open to the idea that I have this all wrong. I think I am marshaling an impressive array of quotes to support my thesis, but here is Ossip Gabrilowitsch offering up a spirited dissent:
"As I study the march of the human race through the centuries and try to understand its present status, I am unable to discern any plan leading to a higher fruition here or elsewhere. Cruelty, injustice, lawlessness seem to characterize the nature and actions of man today as much (though possibly in a different form) as they did thousands of years ago. A glance at the unprecedented chaos — political, social, and economic — which prevails in the world at present, teaches us this lesson. It is but the inevitable result of our incurable inability or unwillingness to learn by experience; our lack of generosity, our lack of moral courage — all things as characteristic of the human race today as centuries ago."
Perhaps uncharacteristically, I try to be optimistic about this question of Are human beings selfish? I think there is some evidence for human progress over the years, while there is evidence of a growing depravity and destructiveness toward the planet. Everything ages and dies; perhaps humanity is no exception. A parable about selfishness and greed versus generosity and virtue provides a good handhold for the optimistic point of view, I think:
An old Cherokee is teaching his grandson about life. "A fight is going on inside me," he said to the boy. "It is a terrible fight and it is between two wolves. One is evil – he is anger, envy, sorrow, regret, greed, arrogance, self-pity, guilt, resentment, inferiority, lies, false pride, superiority, and ego." He continued, "The other is good – he is joy, peace, love, hope, serenity, humility, kindness, benevolence, empathy, generosity, truth, compassion, and faith. The same fight is going on inside you – and inside every other person, too." The grandson thought about it for a minute and then asked his grandfather: "Which wolf will win?" The old Cherokee simply replied, "The one you feed."
Alexander Pope noted: "'Tis education forms the common mind; Just as the twig is bent the tree's inclined." We must educate and train and inculcate in boys a very measured sense of power that genetics, testosterone, and most cultures of the world (including American) convey to him. Each two-year-old has dark and grandiose desires to grow up into a Donald Trump. Think of the toys! Think how jealous the other kids will be! It's the stuff of moustache-twirling evil villains. In fact, little Donny was made a millionaire at age 8 by his clever, unscrupulous father. The world would never be the same. Ω
---
I will now answer the question, Are human beings selfish?, with some of humanity's greatest thoughts on the subject. More quotes about humanity and a hundred other topics such as, Are human beings selfish? can be found by searching for free HERE.
"A human being is happiest and most successful when dedicated to a cause outside his own individual, selfish satisfaction." ~ Benjamin Spock
"All for ourselves, and nothing for other people, seems, in every age of the world, to have been the vile maxim of the masters of mankind." ~ Adam Smith
"A society grows great when old men plant tress whose shade they know they shall never sit in." ~ Greek proverb
"Ayn Rand's rejection of the moral code that condemns selfishness as the ultimate evil and holds up self-sacrifice as the ultimate good is a radical challenge to received wisdom, an invitation to a startlingly new way to see the world." ~ Cathy Young
"There are three ways to ultimate success: The first way is to be kind. The second way is to be kind. The third way is to be kind." ~ Fred ("Mr.") Rogers
"The human being is so constructed that he pressed toward fuller and fuller being and this means pressing toward what most people would call good values, toward serenity, kindness, courage, honesty, love, unselfishness, and goodness." ~ Abraham Maslow
"Selfish concern for wealth or physical pleasure is of course blameworthy, but the true lover of self is he who seeks that most fitting to his highest nature – the just, temperate, and noble. If all sought for themselves the highest good – virtue – self-love would make for the greatest common welfare." ~ Frank N. Magill
"No one has ever become poor by giving." ~ Anne Frank
"Due to our power to symbolize, to delay gratification, and to empathize, we are able to stop our selfish impulses. Such discipline of the imagination is absolutely crucial if we are to live in a truly humane world." ~ Colin Greer
"Don't complain about what you don't have. Use what you've got. To do less than your best is a sin. Every single one of us has the power for greatness, because greatness is determined by service – to yourself and to others." ~ Oprah Winfrey
"The best way to find yourself is to lose yourself in the service of others." ~ Mohandas K. Gandhi
"The richest man carries nothing away with him but a shroud." ~ French proverb
"No one has yet fully realized the wealth of sympathy, kindness, and generosity hidden in the soul of a child. The effort of every true education should be to unlock that treasure." ~ Emma Goldman
"Magnanimity is often lived in quiet, simple ways off the radar screen of most of the world. The person who daily endeavors to be a better spouse, parent, friend, or child of God is truly seeking greatness of soul. Indeed, the magnanimous person continuously strives to perfect the virtues in all areas of his life. He is not content with simply being good. He reaches out toward excellence." ~ Edward P. Sri
"Are human beings selfish? I think there is some evidence that we are, but there is ample evidence that we transcend that trait and evince love and caring. The question, really, is what do we want to be?" ~ Jason Merchey
"Property is not essential. But happiness, a love of beauty, friendship between all peoples and individuals is life itself." ~ Laurie Stockwell
"Don't just tolerate people, love people. All good flows from that." ~ Rudolfo A. Anaya
"The very same generosity that we extend to the world is the generosity that returns to us — materially, emotionally, physically, and spiritually — and we are each learning this at our pace." ~ Jan Phillips
"Rational calculation is often unselfish. For complex, still poorly understood reasons, some of the most powerful emotions are patriotism and altruism. It remains a surprising fact that a substantial percentage of people are willing at a moment's notice to risk their lives to save those of strangers." ~ Edward O. Wilson
"Greatness of spirit [is] to bear finely both good fortune and bad, honor and disgrace, and not to think highly of luxury or attention or power or victories in contests, and to possess a certain depth and magnitude of spirit." ~ Aristotle
"According to Buddhism, generosity and the act of giving are seen as causes of wealth. But in order to practice generosity and giving successfully, one must first of all have a sound ethical discipline, and certain type of outlook and principles. And that ethical discipline or those principles can come about only if one has the ability to bear hardships and adverse circumstances when confronted with them." ~ Tenzin Gyatso, the 14th Dalai Lama
"My parents never bound us to any church but taught us that the love of goodness was the love of God, the cheerful doing of duty made life happy, and that the love of one's neighbor in its widest sense was the best help for oneself. Their lives showed us how lovely this simple faith was, how much honor, gratitude and affection it brought them, and what a sweet memory they left behind." ~ Louisa May Alcott
"I see three changes as especially connected to the rise in cheating: individualism has morphed into a harder-edged selfishness; money has become more important to people; and harsher norms of competition have spread while compassion for the weaker or less capable has waned." ~ David Callahan
"Hard-working people, and poor, most of them, in worldly goods – but how rich in compassion! How filled with the goodness of humanity and the spiritual steel forged by centuries of oppression! There was the honest joy of laughter in these homes, folk-wit and story, hearty appetites for life as for the nourishing greens and black-eyed peas and cornmeal bread they shared with me. Here in this little hemmed-in world where home must be theatre and concert hall and social center, there was a warmth of song. are human beings selfish? Songs of love and longing, songs of trials and triumphs, deep-flowing rivers and rollicking brooks, hymn-song and ragtime ballad, gospels and blues, and the healing comfort to be found in the illimitable sorrow of the spirituals." ~ Paul Robeson
"Many Americans are unaware of the extent of suffering that has fallen on the bottom 20 percent or so of the population. Many low-income Americans are leading lives of grim and sometimes painful determination, struggling to survive from one day to the next." ~ Bob Herbert
"The honorary duty of a human being is to love." ~ Maya Angelou
"The lover of mankind strengthens men, for he himself wishes to be strengthened; he helps men toward success, for he himself wishes to achieve success." ~ Confucius
"The human contribution is the essential ingredient. It is only in the giving of oneself to others that we truly live." ~ Ethel Percy
"Moral prescriptions inherently conflict with a positive value: the value of personal freedom. There can be no denying or dodging this basic fact. Morality exists precisely to thwart your freedom to act on your selfish desires. That is why we often don't want to do what we should do." ~ Colin McGinn
"The old love of life and nature and the old ways of sharing rather than taking away, of caring for rather than oppressing, and the view of power as responsibility rather than domination did not die out. But like women and qualities associated with femininity, they were relegated to a secondary place." ~ Riane Eisler
"The love of our neighbor in all its fullness simply means being able to say to him, What are you going through?" ~ Simone Weil
"Weapons didn't defeat slavery. Nor did war, nor politics, nor even the Emancipation Proclamation. Slavery fell because it offended the human spirit, broke the human heart, and thus could not stand." ~ Aaron Freeman
"Brotherhood is the very price and condition of man's survival." ~ Carlos P. Romulo
"At nursery school one day, the teacher asked what the children wanted to be when they grew up. Our older son, age 4, said, 'Some days I want to be a fireman, but some days I just want to be a regular dad who stays home and takes care of the kids.' I love to think that the rest of the world will someday think that is a definition of a regular dad." ~ Zipporah W. Collins
Are human beings selfish?