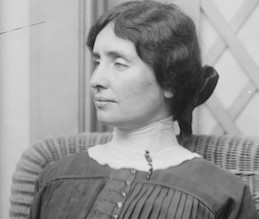 In this day and age of political unrest, questionable media, and discrepant values, it is a breath of fresh air to read the beautiful words of optimism and understanding. I am referring to the wonderful woman and hero of girls and handicapped individuals everywhere, Helen Keller. She evolved from someone who truly knew hardship and adversity to one who successfully focused her time and energy into the worthy pursuits of growth, happiness, love, and compromise. She pushed her own (and society's) boundaries and became someone great.
Who was Helen, and what can we learn from her? Despite being deaf, blind, and having difficulty speaking, Helen Keller was able to see and experience things in a way the rest of us can only dream. She could see the bigger picture. She may not have sight, but she had vision, as she noted. She achieved more than most with impediments and challenges greater than most.
Her determination to overcome her disabilities led to her to become the first-ever blind/deaf person to graduate from college, inspiring millions of people from all walks of life. This triumph wowed and inspired not only the disabled, but the healthy, old, young, famous, rich, and poor at home and abroad.
She is the virtual embodiment of what being moral and living a life of value means – overcoming obstacles, evolving and learning from them, and helping others by doing what you love. She valued things like strength, perseverance, learning, and relationships, and it showed.
The positive impact Helen Keller had on people and their lives led to her becoming a household name. In fact, Keller and Mark Twain developed a very special kinship with each other, and he is quoted as saying: "The two most interesting characters of the nineteenth century are Helen Keller and Napoleon Bonaparte." Keller was not only loved by authors, her presence was sought after by presidents, dignitaries, celebrities, and scientists including presidents Eisenhower, Johnson, and Kennedy, as well as Alexander Graham Bell and Charlie Chaplin. She has inspired millions since.
Her moral greatness and personal power do not stop there. Helen chose to use her fame and notoriety not to enrich herself, like many today do, but to promote social issues. Though she still could not see or hear, she worked tirelessly on behalf of the poor, the disabled, for women's rights, and for rights of workers. She was a full-throated voice for those who were not being heard.
Keller is proof that you don't need to be able to speak well, see, or hear to stand up and be a voice for others. Even more so than the ancient Greek orator, Demosthenes, who used his willpower and inner strength to overcome a speech impediment by ceaseless practice and unique techniques like speaking with pebbles in his mouth, she was intent on succeeding despite her grave disabilities.
The reason I find her so refreshingly inspiring and wise is because she did not allow being blind and deaf impede her from becoming a better person in every sense of the word; she grew through hard work to be educated, successful, intelligent, open-minded, moral, understanding and helpful. She began life with the chips stacked against her, and despite her winnings, never forgot where her values lie, becoming a proud socialist and lobbying for equality and humaneness on a society-wide level.
In a world where people who have been life-long friends have a falling out over differing politics and ideologies, we ought to remember she said in 1926 that "The highest result of education is tolerance." No matter where you come from, what you look like, what your disabilities are, or what you believe, she taught that we are all in this together, and that it is by loving and supporting one another, by engaging in compromise and cooperation, humanity will evolve and flourish.
Here are some of my favorite Helen Keller quotes to hopefully inspire you to gratitude and action:
"Character cannot be developed in ease and quiet. Only through experience of trial and suffering can the soul be strengthened, vision cleared, ambition inspired, and success achieved."
"Believe when you are most unhappy that there is something for you to do in the world. So long as you can sweeten another's pain, life is not in vain."
"No pessimist ever discovered the secret of the stars, or sailed to an uncharted land, or opened a new doorway for the human spirit."
"All about me may be silence and darkness, yet within me, in the spirit, is music and brightness, and color flashes through all my thoughts."
"It gives me a deep, comforting sense that things seen are temporal and things unseen are eternal."
"It is wonderful how much time good people spend fighting the devil. If they would only expend the same amount of energy loving their fellow men, the devil would die in his own tracks of ennui."
"How I wish that all men would take sunrise for their slogan and leave the shadow of sunset behind."
"I had once believed that we were all masters of our fate; that we could mould our lives into any form we pleased…. I had overcome deafness and blindness sufficiently to be happy, and I supposed that anyone could come out victorious if he threw himself valiantly into life's struggle. But as I went more and more about the country I learned that I had spoken with assurance on a subject I knew little about. I forgot that I owed my success partly to the advantages of my birth and environment…. Now, however, I learned that the power to rise in the world is not within the reach of everyone."
"Until the great mass of the people shall be filled with the sense of responsibility for each other's welfare, social justice can never be attained."
"Optimism is the faith that leads to achievement; nothing can be done without hope or confidence."
"When one door of happiness closes, another opens; but often we look so long at the closed door that we do not see the one which has been opened for us."
"Toleration … is the greatest gift of the mind; it requires the same effort of the brain that it takes to balance oneself on a bicycle."
"The unselfish effort to bring cheer to others will be the beginning of a happier life for ourselves."
"The most beautiful things in the world cannot be seen with the eyes, but only with the human heart."
To find Helen Keller quotes in addition to these, or quotes about strength, perseverance, overcoming, will, persistence, character, and integrity, poke around in The Wisdom Archive! It took 1,500 hours and $15,000 to create, but is available to you for free.
To learn more about Helen Keller from a biographical point of view, try this page.
cowritten by Ganae Vigil