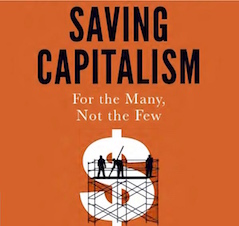 Is capitalism a sustainable economic system? There are many facts, opinions, and even biases held by countless people. Everyone has heard "Socialism is _______" or "The problem with capitalism is ___________." This is certainly a question that interests me. I tend to come down on the side of capitalism where it meets democratic socialism. That is, the government (comprised of responsible and accountable citizens) owns some public resources, and individuals and to some degree corporations own the remainder. The amount of money that one can make from profit-seeking ventures is limited by a very progressive taxation scheme. One of the sharpest minds is the liberal author, professor, and former Secretary of Labor, Robert B. Reich, and he wrote a book, Saving Capitalism, that helps to answer the critical and timely questions, Is capitalism a sustainable economic system? Is capitalism just and fair? What can socialism and other approaches offer capitalism to help preserve the planet, care for people, and yet allow profit-making? This blog features Robert Reich quotes from his very readable book, Saving Capitalism.
Do you recall a time when the income of a single schoolteacher or baker or salesman or mechanic was enough to buy a home, have two cars, and raise a family? I do. In the 1950s, my father, Ed Reich, had a shop on the main street of a nearby town, in which he sold women's clothing to the wives of factory workers. He earned enough for the rest of us to live comfortably.
My solution — and I'm hardly alone in suggesting this — has been an activist government that raises taxes on the wealthy, invests the proceeds in excellent schools and other means people need to get ahead, and redistributes to the needy. These recommendations have been vigorously opposed by those who believe the economy will function better for everyone if government is smaller and if taxes and redistributions are curtailed.
Many of the most vocal proponents of the "free market" — including executives of large corporations and their ubiquitous lawyers and lobbyists, denizens of Wall Street and their political lackeys, and numerous multimillionaires and billionaires — have for many years been actively reorganizing the market for their own benefit and would prefer these issues not be examined.
A market — any market — requires that government make and enforce the rules of the game. In most modern democracies, such rules emanate from legislatures, administrative agencies, and courts. Government doesn't "intrude" on the "free market." It creates the market.
As the economic historian Karl Polanyi recognized, those who argue for "less government" are really arguing for a different government — often one that favors them or their patrons.
Many of these decisions are far from obvious and some of them change over time, either because social values change (think of slavery), technologies change (patents on novel arrangements of molecules), or the people with power to influence these decisions change (not just public officials, but the peopled who got them into their positions). These decisions don't "intrude" on the free market. They constitute the free market. Without them there is no market.
If a democracy is working as it should, elected officials, agency heads, and judges will be making the rules roughly in accordance with the values of most citizens. As philosopher John Rawls has suggested, a fair choice of rule would reflect the views of the typical citizen who did not know how he or she would be affected by its application.
Power and influence are hidden inside the processes through which market rules are made, and the resulting economic gains and losses are disguised as the "natural" outcomes of "impersonal market forces." Yet as long as we remain obsessed by the debate over the relative merits of the "free market" and "government," we have little hope of seeing through the camouflage.
Money and power are inextricably linked. And with power has come influence over the market mechanism. The invisible hand of the marketplace is connected to a wealthy and muscular arm. It is perhaps no accident that those who argue most vehemently on behalf of an immutable and rational "free market" and against government "intrusion" are often the same people who exert disproportionate influence over the market mechanism.
Is capitalism a sustainable economic system? Some say socialism is far-preferred, or democratic socialism. In reading this blog about socialism one will find an example.
Nowhere did the five members in the majority acknowledge the imbalance of power between big corporations increasingly willing to finance vast political advertising campaigns and ordinary citizens. In practice, therefore, the freedom of speech granted by the court to corporations would drown out the speech of regular people without those resources.
The expanding freedom of corporations to do what they want may theoretically enlarge the economic pie for everyone. But in recent years the major consequence of such freedom has been to give bigger slices to the top executives of large corporations and Wall Street banks, and their shareholders, and smaller slices to almost everyone else.
The supposed freedom of contract is a cruel joke to workers who have no alternatives but to agree to terms mandating arbitration of all grievances before an arbiter chosen by the company, thereby forcing employees to give up their constitutional right to a trial. A corporation that monitors its employees' every motion from the minute they check in to the minute they check out, even limiting bathroom breaks to six minutes a day, may be a model of free enterprise, but it does not contribute to the liberty of the people working for it.
The freedom of enterprises to monopolize a market likewise reduces the freedom of consumers to choose. Most of us remain "free" in the limited sense of not being coerced into purchasing Internet services or drugs. We can choose to do without them. But this is a narrow view of freedom.
The debate over private versus public ownership obscures basic decisions about the rules governing private property: What can be owned, on what condition, and for how long? Some of these are profoundly moral issues. They are also, inevitably, political, because their answer depends on the distribution of power in society.
The idea that shareholders are a corporation's only owners, and therefore that the sole purpose of the corporation is to maximize the value of their investments, appears nowhere in the law. In fact, in the first three decades following World War II, corporate managers saw their job as balancing the claims of investors, employees, consumers, and the public at large. The large corporation was in effect "owned" by everyone with a stake in how it performed.
Why should a company that creates a blockbuster drug that can be reproduced for pennies earn billions while many who would benefit from it cannot afford it? What's the proper balance between giving would-be inventors enough ownership that they're motivated to invent and giving the public affordable access to their discoveries?
Some doctors pocketed over half a million dollars each, and others received millions of dollars in royalties from products they had a hand in developing. Doctors claim these payments have no effect on what they prescribe. But why would pharmaceutical companies shell out all this money if it did not provide them a healthy return on their investment?
The critical question is not whether government should play a role. Without government, patents would not exist, and pharmaceutical companies would have no incentive to produce new drugs. The issue is how government organizes the market. So long as big drugmakers have a disproportionate say in those decisions, the rest of us pay through the nose.
You are reading Robert Reich quotes on ValuesoftheWise.com. He is trying to answer the question, Is capitalism a sustainable economic system?
Contrary to the conventional view of an American economy bubbling with innovative small companies, the reality is quite different. Intellectual property, network effects, natural monopolies, expensive R&D, fleets of lawyers to litigate against potential rivals, and armies of lobbyists have created formidable barriers to new entrants. This is one major reason the rate at which new businesses have formed in the United States has slowed markedly in recent years.
The larger and wealthier the organization, the better equipped its lawyers and its experts are to assert what's good for the public. Any official who once worked for such an organization, or who suspects he may work for one in the future, is prone to find such arguments especially persuasive.
Monsanto, the giant biotech corporation, owns the key genetic traits in more than 90 percent of the soybeans planted by farmers in the United States and 80 percent of the corn. Its monopoly grew out of a carefully crafted strategy.
In 2012, the staff of the Federal Trade Commission's Bureau of Competition submitted to the commissioners a 160-page analysis of Google's dominance of the search market, and recommended suing Google for "conduct… that will result in real harm to customers and to innovation." It is unusual for the commissioners not to accept staff recommendations, but in this instance they decided against suing Google. They did not explain why, but a plausible explanation is Google's increasing political clout.
All this has given Google and Facebook unprecedented economic and political power over these critical networks. Meanwhile, rather astoundingly, Amazon has become the first stop for almost a third of all American consumers looking to by anything. Despite an explosion in the number of websites over the last decade, page views have become far more concentrated. While in 2001, the top ten websites accounted for 31 percent of all page views in America, by 2010 the top ten accounted for 75 percent. Talk about power.
Large retailers including Borders were already gone, Barnes & Noble was perilously weak, and thousands of smaller bookstores had closed. Amazon was also publishing books itself. How long would it be before Amazon put publishers out of business, too? How many years before it replaced books with downloads from a gigantic digital library in the cloud? How long, in other words, before Amazon had so much power that it was able to abuse it?
Other nations have laws protecting their bookstores and publishers. In France, for example, no seller can offer more than 5 percent off the cover price of new books, with the result that books cost about the same wherever you buy them in France, even online. The French government classifies books as an "essential good," along with electricity, bread, and water.
Wall Street's biggest banks offered the largest financial rewards and fattest bonuses, attracted the most talent, oversaw the biggest pools of money, and effectively controlled the fastest-growing sector of the entire U.S. economy. Between 1980 and 2014, the financial sector grew six times as fast as the economy overall.
In the decades leading up to the near financial meltdown of 2008, the biggest banks had already grown much larger and more profitable by persuading Congress and presidential administrations to dismantle many of the laws and rules that had been enacted in the wake of the Great Crash of 1929 to prevent big banks from making excessively risky bets. Then, after their risky behavior precipitated the crash of 2008 and they were bailed out by American taxpayers, they became even larger and more powerful — with so much clout they could water down the new rules intended to prevent further crises.
By the time Congress considered the Affordable Care Act, the two groups had enough leverage in Washington to ensure that the legislation would boost the profits of both the big insurers and the giant hospital systems. They made their support of the proposed legislation contingent on a requirement that everyone buy insurance and not get a "public option" to choose Medicare-like public insurance over private insurance.
We do not talk about this any longer but the political influence of concentrated economic power was a central concern in the late nineteenth century when Congress enacted the nation's first antitrust law…. This was the era of the robber barons — including Andrew Carnegie, John D. Rockefeller, and Cornelius Vanderbilt — whose steel mills, oil rigs and refineries, and railroads laid the foundations of America's industrial might. They also squeezed out rivals who threatened their dominant positions, and they ran roughshod over democracy. They ran their own slates for office and brazenly bribed public officials, even sending lackeys with sacks of money to be placed on the desks of pliant legislators.
Antitrust was envisioned as a means of breaking the diabolical links between the economic and political power of the new combinations. "Liberty produces wealth, and wealth destroys liberty," wrote Henry Demarest Lloyd in his acclaimed Wealth Against Commonwealth (1894).
With Americans demanding action, [Republican Senator from Ohio John] Sherman's Antitrust Act passed the Senate 52 to 1…. Perversely, however, in its early years the act was used as a weapon against organized labor… But by the Progressive Era, commencing in 1901, presidents were willing to use the Sherman Act as Congress had intended, to break the connection between economic and political power.
I address the question, Is capitalism a sustainable economic system? in this five-part series, the first of which can be read on this site. It is entitled "Critiques of Capitalism"
In this new gilded age, we should remind ourselves of a central guiding purpose of America's original antitrust law and use it no less boldly.
You are not allowed to buy and sell votes in the United States, although anyone even vaguely familiar with how political campaigns are financed might harbor some doubts about the nation's commitment to this principle. Before the twentieth century, contracts to lobby government officials were not enforceable on the grounds that lobbying was contrary to public policy.
Insiders fix the markets for their own benefit. What's the chance that Congress will change the law to rein in insider trading? Almost zero as long as the Street continues to provide a significant share of the campaign contributions that members of Congress and the president rely on to get elected. In Europe, by contrast, trading on confidential information is illegal.
The new contracts do not result from negotiations between two parties with roughly equal bargaining power. They are faits accomplis, emanating from giant corporations that have the power to demand acceptance. Mortgage applicants are required to sign a small mountain of bank conditions to qualify for a loan, even though they may thereby forfeit their right to go to court alleging predatory lending practices. Lower-income borrowers must agree to double-digit fees and interest rates if they fail to pay on time, even though they rarely know they're accepting those terms.
State and federal lawmakers once sought to protect vulnerable consumers, employees, and borrowers by setting limits on certain contractual terms large corporations and finance companies can demand. But in recent years, those limits have been whittled back under political pressure from corporations and banks.
When large corporations have disproportionate power — not only over what's sold, but also over the rules for deciding what contracts are permissible and enforceable by law — those who are relatively powerless have no choice. The "free market" is not, in this sense, free. It offers no practical alternative.
On the day Trump Plaza opened in Atlantic City in 1984, Donald Trump stood in a dark topcoat on the casino floor celebrating his new investment as the finest building in the city and possibly the nation. Thirty years later, the Trump Plaza folded, leaving some one thousand employees without jobs. Trump, meanwhile, was on Twitter claiming he had "nothing to do with Atlantic City" and praising himself for his "great timing" in getting out of the investment.
Bankruptcy was designed so people could start over. But these days, the only ones starting over with ease are big corporations, wealthy moguls, and Wall Street, who have had enough political clout to shape bankruptcy law to their needs.
Who gets to use bankruptcy, and for what types of debts? What's an equitable allocation of losses among creditors? And what happens when bankruptcy isn't available? These questions and hundreds of others related to them have to be answered somehow. The "free market" itself doesn't offer solutions. Most often, powerful interests do.
Buried within the staid laws of bankruptcy are fundamental political and moral questions. Who are "we" and what are our obligations to one another? Is American Airlines just its shareholders and executives, or its employees as well? Is a financial crisis that brings down both big banks and homeowners a common problem or two distinct problems? When graduates cannot repay their student debts, do lenders have any responsibilities?
In 2005, Congress enacted the Protection of Lawful Commerce in Arms Act, which sharply limited the liability of gun manufacturers, distributors, and dealers for any harm caused by the guns they sold. Not all industries have been as successful. Decades ago, the automobile industry dubbed cars safe and seat belts unnecessary, and the tobacco industry promoted the alleged health benefits of cigarettes. After tens of thousands of deaths and hundreds of millions of dollars in damage awards to victims, both industries began changing their tunes. Today, cars are safer, and fewer Americans smoke.
During the same period, the IRS lost more than ten thousand staff — an 11 percent reduction in personnel. This budget stinginess didn't save the government money. To the contrary, less IRS enforcement means less revenue. For every dollar that goes into IRS enforcement, an estimated $200 is recovered of taxes that have gone unpaid. Less enforcement does, however, reduce the likelihood that wealthy individuals and big corporations would be audited.
Obviously, government should weigh the costs and benefits of every significant action it takes. But big corporations and large banks have an inherent advantage in the weighing: They can afford to pay for experts and consultants whose studies will invariably measure costs and benefits in the way big corporations and large banks want them to be measured. Few, if any, other parties to regulatory proceedings have pockets remotely as deep to pay for studies nearly as comprehensive to back up their own points of view.
Wall Street's shenanigans have convinced a large portion of America that the economic game is rigged. Capitalism, alas, depends on trust. Without trust, people avoid even sensible economic risks. They also begin thinking that if the big guys can get away with cheating in big ways, small guys like them should be able to get away with cheating in small ways — causing even more people to distrust the economic system. Moreover, people who believe the game is rigged are easy prey for political demagogues with fast tongues and dumb ideas.
No big bank or corporation will avoid the opportunity to make a tidy profit unless the probability of getting caught and prosecuted, multiplied by the amount of any potential penalty, exceeds the potential gains. A fine that's small compared to potential winnings becomes just another cost of doing business.
After several settlements and guilty pleas in which Pfizer, the pharmaceutical giant, promised to behave better, it again pleaded guilty in 2009 to bribing doctors to prescribe an off-label painkiller, and paid a criminal fine of $1.2 billion. But no senior Pfizer executive was ever charged with or convicted of a crime. Similarly, six years after Wall Street's near meltdown, not a single executive on the Street had been convicted or ever indicted for crimes that wiped out the savings of countless Americans.
Robert Reich quotes are some of the best quotes about capitalism and socialism around! He definitely gets at the important question, Is capitalism a sustainable economic system? in his astute and timely book Saving Capitalism 
Economic dominance feeds political power, and political power further enlarges economic dominance. To an ever-growing extent, large corporations and the wealthy influence the political institutions whose decisions organize the market, and they benefit most from those decisions. This enhances their wealth and thereby their capacity to exert more influence over such decisions in the future.
The idea of a "free market" separate and distinct from government has functioned as a useful cover for those who do not want the market mechanism fully exposed. They have had the most influence over it and would rather keep it that way. The mythology is useful precisely because it hides their power.
The notion that you're paid what you're "worth" is by now so deeply ingrained in the public consciousness that many who earn very little assume it's their own fault. They feel ashamed of what they see as a personal failure — a lack of brains or a deficiency of character. The same notion allows those who earn vast sums to believe they must be extraordinarily clever, daring, and superior; otherwise, they wouldn't be doing so well.
People are "worth" what they're paid in the market in the trivial sense that if the market rewards them a certain amount of money they must be. Some confuse this tautology for a moral claim that people deserve what they are paid. One of the most broadly held assumptions about the economy is that individuals are rewarded in direct proportion to their efforts and abilities — that our society is a meritocracy.
This "enormously productive social system" now distributes a very large portion of the income it generates to those at its uppermost rungs — a higher portion to the one-tenth of 1 percent than in more than eighty years. This lopsidedness, in turn, is largely the consequence of how power has been allocated and utilized.
If the rules governing how the market is organized took full account of the benefits to society of various roles and occupations, moreover, some people would be paid far more. Social work, teaching, nursing, and caring for the elderly or for children are among the lowest-paid professions, yet evidence suggests that talented and dedicated people in these positions generate societal benefits far out of proportion to their pay. One such study found that good teachers increase the average present value of their students' lifetime income by $250,000 per classroom, for example. Presumably, if teaching jobs paid better they would attract many more such teachers.
People in these professions do not generate discoveries that transform society or create works of art that enrich and deepen human consciousness. Their innovations are financial and tactical — finding new ways to squeeze more money out of a given set of assets, including employees, or to expropriate the assets and incomes of others. Such contests also use up the time and energies of some of the nation's most educated young people, whose talents could, one supposes, be put to more socially beneficial uses.
Anyone who still believes people are paid what they're worth is obliged to explain the soaring compensation of CEOs in America's large corporations over the last three decades, relative to the pay of average workers — from a ratio of 20 to 1 in 1965, to 30 to 1 in 1978, 123 to 1 in 1995, 296 to 1 in 2013, and over 300 to 1 today. Overall, CEO pay climbed 937 percent between 1978 and 2013, while the pay of the typical worker rose just 10.2 percent.
Meanwhile, you and I, and other taxpayers, are subsidizing all this. That's because corporations deduct CEO pay from their income taxes, requiring the rest of us to pay more proportionally in taxes to make up the difference. To take but one example, Howard Schultz, CEO of Starbucks, received $1.5 million in salary for 2013, along with a whopping $150 million in stock options and awards. That saved Starbucks $82 million in taxes.
The reason Wall Street bankers got $26.7 billion in bonuses in 2013 was not because they worked so much harder or were so much more clever or insightful than most other Americans. They received those bonuses because they happen to work in institutions that hold a privileged place in the American political economy. The subsidy going to the big banks comes from you and me and other taxpayers because we paid for the last bailout, and it is assumed we will pay for the next one.
Not incidentally, the $26.7 billion distributed to Wall Street bankers in 2013 bonuses would have been enough to more than double the pay of every one of America's 1,007,000 full-time minimum-wage workers that year. The remainder of the $83 billion hidden subsidy going to the biggest banks on the Street was $20 billion more than what the government provided that year to twenty-eight million low-wage workers and their families in the form of wage subsidies under the Earned Income Tax Credit.
For three decades after World War II, the average hourly compensation of American workers rose in lockstep with productivity gains. It was a virtuous cycle, from which our family and tens of millions of others benefitted: As the economy grew, the middle class expanded, and as its purchasing power rose, the economy grew faster, spawning new investments and innovations that further enriched and enlarged the middle class.
The underlying problem, then, is not that average working Americans are "worth" less in the market than they had been, or that they have been living beyond their means. The problem is that they have steadily lost the bargaining power needed to receive as large a portion of the economy's gains as they commanded in the first three decades after World War II, and their means have not kept up with what the economy could otherwise provide them.
In addition to Robert Reich quotes that approach the question, Is capitalism a sustainable economic system?, I welcome you to check out this blog entitled "America Beyond Capitalism"
The standard assumption that work determines worth — and validates one's personal virtue and social responsibility — is further confounded by a substantial increase in the number of people working full-time who are still poor, and a simultaneous surge in the comparatively smaller ranks of people who do not work at all but are rich.
Some politicians cling to the view, as expressed, for example, by Speaker of the House John Boehner in 2014, when he said the poor have "this idea" that "I really don't have to work. I don't really want to do this. I think I'd rather just sit around." The reality is that America's poor work diligently, often more than forty hours a week, sometimes in two or more jobs. Yet they and their families remain poor.
As former Congresswoman Michele Bachmann once put it, if the minimum wage were repealed, "we could potentially virtually wipe out unemployment completely because we would be able to offer jobs at whatever level." Theoretically, Bachmann is correct. But her point is irrelevant. It is no great feat for an economy to create a large number of very-low-wage jobs. Slavery, after all, was a full-employment system.
It is notable, for example, that in Denmark, where McDonald's workers over the age of eighteen earn the equivalent of twenty dollars an hour, Big Macs cost only thirty-five cents more than they do in the United States. Any wage gains low-paid workers receive will more than likely come out of profits — which, in turn, will slightly reduce returns to shareholders and the compensation packages of top executives. I do not find this especially troubling.
Between 2000 and 2013, the compensation of the CEOs of fast-food companies quadrupled, in constant dollars, to an average of $24 million a year. Walmart, too, pays its executives handsomely. In 2012, Walmart's CEO received $20.7 million. Not incidentally, the wealth of the Walton family — which still owns the lion's share of Walmart stock — by then exceeded the wealth of the bottom 40 percent of American families combined, according to an analysis by the Economic Policy Institute.
By 2014, only 26 percent of jobless Americans were receiving any kind of jobless benefit. Typically, recipients of public assistance must be working in order to qualify. Bill Clinton's welfare reform of 1996 pushed the poor off welfare and into work, but the work available to them has provided low wages and offered few ladders into the middle class.
Some continue to believe that the poor remain poor because they lack ambition. But what they really lack is an opportunity and the political power to get the resources needed to realize that opportunity. It begins with inadequate child care and extends through primary and secondary schools, which helps explain the growing achievement gap between lower- and higher-income children.
The achievement gap between poor kids and wealthy kids isn't mainly about race. In fact, the racial achievement gap has been narrowing. It's a reflection of the nation's widening gulf between poor and wealthy families, of how schools in poor and rich communities are financed, and of the nation's increasing residential segregation by income.
The wealthiest, highest-spending districts are now providing about twice as much funding per student as are the lowest-spending districts, according to a federal advisory commission report. In some states, such as California, the ratio is greater than three to one. What are called "public schools" in many of America's wealthy communities aren't really public at all.
Money isn't everything, obviously. But how can we pretend it doesn't count? Money buys the most experienced teachers, less-crowded classrooms, high-quality teaching materials, and after-school programs. Yet we seem to be doing everything except getting more money to the schools that most need it. We're requiring all schools to meet high standards, requiring students to take more and more tests, and judging teachers by their students' test scores. But until we recognize that we're systemically hobbling schools serving disadvantaged kids, we're unlikely to make much headway.
A growing portion of the non-working rich have never worked, however. They have inherited their wealth. Their good fortune lies in being born into families that not only give them every advantage when they are young but also bequeath to them sufficient wealth that they continue to have every advantage regardless of what they do or fail to do for the rest of their lives.
The "self-made" man or woman, the symbol of American meritocracy, is disappearing. Six of today's ten wealthiest Americans are heirs to prominent fortunes. As I've noted, the Walmart heirs have more wealth than the bottom 40 percent of Americans combined. And this is just the beginning. America is on the cusp of the largest intergenerational transfer of wealth in history.
We are the authors of our own fates. But, as I have made clear, we are not the producers or directors of the larger dramas in which we find ourselves. Other forces are at work in determining not only what we are able to earn but also what we are able to accomplish, as well as the strength of our voices and the efficacy of our ideals. Those who are rich and becoming ever more so are neither smarter nor morally superior to anyone else. They are, however, often luckier, and more privileged and more powerful.
---
Robert Reich quotes are not the only interesting source for information regarding the question, Is capitalism a sustainable economic system? I conducted an interview with the noted economist Jared Bernstein
keyword phrase: Is capitalism a sustainable economic system?