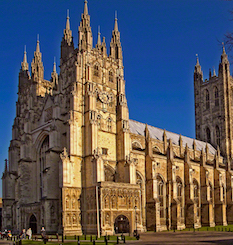 This essay is fully titled: "Thinking Like Cathedral Builders: Outrageous Behavior, Freedom, and Hope" and is authored by John Abrams. It is one of the chapters in the book Living a Life of Value, which can be seen here. In this essay, Mr. Abrams, the founder of a very successful employee-owned company, uses cathedral building as a metaphor, and encourages fellow business owners to move beyond what Einstein called "the predatory phase of capitalism." South Mountain Company is committed to a Triple Bottom Line, which means that people, planet, and profit are all equally important to us – balancing profits with environmental restoration, social justice, and community engagement.
---
These are interesting times. I suppose that is so of all times, but somehow these seem pivotal. The question, as the artist Bruce Mau so succinctly says, is "Now that we can do anything, what will we do?"
A friend of mine tells a story about her youth. Drunk and crazy, she and her friends were out driving on Cape Cod late at night. They came to a rotary and they just kept driving around and around. Someone said, "Let's go backwards." They did, several times around and then, sure enough, slammed into a car coming the other way. They were moving slowly, as was the other car, so it was just a minor fender bender. Both cars pulled to the side; the kids sobered themselves and gravely considered their predicament. A cop immediately showed up, and went to the rear car first. Another officer arrived and the first one came forward to their car. He said, "Everybody okay here?"
"We're fine sir," they replied.
Have you been drinking?"
"No, we haven't been drinking."
"That's lucky," he said, "the guy behind you is so drunk he says you were going backwards."
I don't suggest that we should all drive drunkenly, backwards, on rotaries. But I do propose that, sometimes, if we're outrageous enough, nobody can believe it. These are times, I think, that call for outrageous behavior. "A ship in harbor is safe," said the theologian William Shedd, "but that is not what ships are built for."
We may do well to keep this in mind – now that we can do anything – because we can't keep doing what we've been doing if we are to solve the problems we are faced with. These issues – the approach of Peak Oil (the time when the planet's people and economies demand more oil than suppliers can provide), the progression of global climate change, and the concentration of wealth, to name a few – are outrageously complex. They cry out for bold solutions, and they will not go away if we continue to disregard them. Government is not doing the job, especially our current one, which doesn't even believe in government. Businesses and communities must step up with local solutions that meet the challenges head-on. Big business has taken big knocks in recent years, for good reason. Meanwhile, small, socially responsible businesses have become a beacon and a breath of fresh air. In many cases they are thriving, gaining strength, and beginning to make an impact. But we must do more, and we must do it for a long, long, time.
Danny Hillis, the inventor of massive parallel computing, recently designed an immense clock that will tick once a year, bong once a century, and chime once a millennium. The clock is being built in the California mountains; its purpose is to illustrate a different way to think about time. It is designed to work for 10,000 years, the span of human civilization to date. In Stewart Brand's book about the project, called The Clock of the Long Nowhe says:
Civilization is revving itself into a pathologically short attention span. The trend might be coming from the acceleration of technology, the short-horizon perspective of market-driven economics, the next election perspective of democracies, or the distractions of personal multitasking. All are on the increase. Some sort of balancing corrective to the short-sightedness is needed: some mechanism or myth that encourages the long view and the taking of long-term responsibility, where the long-term is measured at least in centuries.
This view of time is squarely at odds with conventional short-term business thinking.
Thirty years ago I co-founded a design/build firm, South Mountain Company. Today I share ownership of the company with fourteen others. My fellow owners and I expect that the work of South Mountain will not be finished in our lifetimes; it will continue for generations. We think of our work as the cathedral builders of the Middle Ages thought of theirs. British business philosopher Charles Handy gives perspective:
Cathedrals inspire. It is not only their grandeur or splendor, but the thought that they often took more than fifty years to build. Those who designed them, those who first worked on them, knew for certain that they would never see them finished. They knew only that they were creating something glorious which would stand for centuries, long after their own names had been forgotten. . . We may not need any more cathedrals but we do need cathedral thinkers, people who can think beyond their own lifetimes.
Problems take on a different cast when we assign them a long-term perspective. Hillis points out that difficult problems become impossible if you think about them in two- or five-year terms, as we usually do, but they become easier if you think in fifty-year terms.
The big problems, he says, ". . . were slow to arrive, and they can only be solved at their own pace."
Perhaps we will have the ability to overcome the staggering problems and tackle the tremendous opportunities we are faced with if we combine the patience of the cathedral builders with a willingness to behave outrageously.
The fifteen owners of South Mountain Company are committed to both approaches. For three decades we have practiced our craft, run our business, and based our decisions primarily on values and only peripherally on profit. Profit is a tool to serve our expectation that we can, over time, be a restorative force, at least in some modest way. The outrageous part is the principles on which our business is based: to use shared ownership and workplace democracy, limited growth by intention rather than response to demand, commitment to place, and long-term thinking in the pursuit of craftsmanship and service of the highest quality. These principles should hardly be outrageous, but I am finding that they are, for now anyway. That may be changing.
---
About Living a Life of Value, from which this essay came, eminent journalist Bill Moyers says: "I have been regularly dipping into it and finding insight, illumination, and inspiration." John Abrams is in good company; there are 38 additional contributors to the handsome book.
---
In 1987 we re-structured from a sole proprietorship to an employee-owned co-operative corporation. It was a dramatic hinge point in the history of the company. Ownership has become available to all employees, enabling people to own and guide their workplace. Nearly half our employees share ownership, and the rest are headed there. The responsibility, the power, and the profits all belong to the group of owners. There are no outside investors and no non-employee owners. We decide what kind of business ours will be. The decisions are partly economic and partly philosophical, and the people making them have well-aligned interests.
Some people have a hard time believing that I gave up sole ownership and control, but they may not understand the tremendous rewards and benefits that derived from that decision, for me and for the company.
A key element of our approach is hiring "future owners" as opposed to employees. We envision people who enter the company staying and leading it forward. We don't know what they, as the perpetuators, will do or produce, but the essence of our collective enterprise will survive in them as they travel into a future we cannot even imagine. So we are not looking for people with specific skill sets – we can teach what we need to. We are looking for the kind of people we wish to share ownership with. Ownership is a big deal; it inspires commitment and responsibility. As Tom Friedman once said, "In the history of mankind, nobody has ever washed a rented car."
Many ecologists and a few intrepid economists question whether the planet can sustain a global economy that enjoys perpetual growth, but the advantage of individual enterprise growth is rarely challenged in the world of business. It is equally unusual to consider the concept of optimal size. In fact, conventional wisdom suggests that small businesses are just those that haven't yet achieved greater success.
For many years we have examined growth rigorously and evaluated the benefits and detriments. We suspect that we could not retain many of the qualities we value if we were significantly larger. We grow to achieve specific goals, but we are aware that when we choose to increase in size, we may disrupt and endanger treasured attributes, and limit good things like invention, personal fulfillment, and the quality of our workplace and our products. Careful control of growth has become a prominent link in South Mountain's chain of values. It's a tug on the sleeve that has our full attention; the gospel of unrestrained growth is not for us.
To forego expansion opportunities means the employees of this company choose to value the quality of their work life over the size of the potential compensation that might come with growth. But that doesn't mean we don't struggle with our values.
There's a story about Abe Lincoln when he was still practicing law in Springfield, Illinois. He represented a client who was fighting the railroad. A friend approaching Lincoln's office saw a man come flying out of the window, hit the ground, brush himself off, and run down the street. The friend rushed in to see what had happened.
"I threw him out the window," Lincoln said.
"Why? What did he do?" asked the friend.
"He's the lawyer for the railroad, and he offered me $5,000 to betray my client, but I turned him down. Then he offered me $10,000, and I turned him down again and finally he offered me $15,000 and I tossed him out the window." The friend asked why he had chosen that moment to throw him out.
"Because," Lincoln answered, "he was getting close to my price."
The lure of greater financial success is strong. Hard to forego. Sometimes it comes close to our price.
We have a long-term investment in the small island community we work in. All our eggs are in this one geographical basket. With its strengths and weaknesses, assets and issues, this is the place we know best – the place that serves as a laboratory for all our experiments, successes and failures alike.
Making expensive homes in a rural resort community, which is part of what we do, has many significant returns: freedom to explore craft, opportunities for the pursuit of quality, relationships with interesting people, and financial rewards. By itself, however, it does not directly serve a broad social purpose – beyond providing good jobs to those who do the work and good homes to a fortunate few – no matter how socially purposeful we are in the way we do it. In fact, if that is all that we do we are part of the problem. We address this reality by using the financial resources and the web of relationships that derive from our work to help solve regional problems, to create desperately needed affordable housing, to limit our environmental impact, and to encourage – in many ways – a better future for the place where we live and work.
For two six month periods, during the winters of 2003 and 2004, I left my company and took a sabbatical. The purpose was twofold: to write a book called The Company We Keep: Reinventing Small Business for People, Community, and Place, and to give the company an opportunity to emerge from the shadow and constraints imposed by my leadership. The thrilling part – the part the book doesn't cover, because it happened after the writing was done – was to come back to a far better company than the one I left. It's a different company, a new company.
Managing in my absence gave people in the company a new sense of legacy. It brought visceral meaning to the idea that this company will endure far beyond my tenure, and the people who truly stepped up, and took the reins, realized, especially the younger ones, that they are the people who will shoulder this task. When we build a business we build a landscape. Landscapes take time to mature, and we are still, quite clearly, a work-in-progress. We are only at the beginning of a long journey. A new company is perpetually under construction. Thanks to a remarkably dedicated and competent group of co-owners, I was able to do something I'd wanted to do for a long time and the company was able to undergo a period of deep organizational learning.
The great reward of writing the book has been hearing the stories of others, a diversity of extraordinary small projects and business experiments that are underway in many places. With our new abilities to communicate and share information, we are more able to find out what's happening in far-flung communities of interest (like my company or yours) and communities of place (like my island or your town). A mosaic of new institutions and approaches is emerging. Although optimism is not the currency of the day, I look around me and see wonderful ideas and forces stewing at the edges of our society. As we unpack these tools and concepts and use them in new ways, we may, ultimately, change the chemistry of our culture.
Some of the stories I hear are about principled and outrageous behavior in the face of adversity. The ability to behave in this way must derive from a robust sense of freedom – the idea that we are at liberty to create our own destiny. I heard Garrison Keillor do a monologue about growing up when he did, before parents were "involved" and before they read books about child rearing. He said "Children were free and wandered in this magical land of childhood, beyond the notice of their parents. This was before kids needed to take entrance examinations to get into kindergarten. Back then we did wonderful, horrible things that our parents never knew of." He talked about the freedom to learn and experience that kids may have less of these days. He and his friends made a clubhouse out of an abandoned railroad station that hadn't been used in many years. He said, "This wasn't the ' Railway Recreation Center' fixed up for the kids on successive Sundays by a bunch of fathers who later had an awards dinner to congratulate themselves. This was just a place that nobody wanted full of wondrous things that nobody cared about. So we got it. We liked it that way, and we did what we wanted. And we learned the things we needed to. And we knew the feeling of freedom."
Most kids don't grow up that way today. But in small communities they still can, and often do. The other day I was at my son's house, and my grandson and two friends wanted a ride toward town. I was headed there and took them. They had skateboards with them, as usual. "Where do you want to go?" I asked.
They conferred amongst themselves and finally Kalib said, "The ramp."
"The skate park?" I asked.
"No, the ramp. It's on Lambert's Cove, just past the cemetery."
"What is it?" I asked.
"Oh, it's a ramp some guy built for his son, but now the kid is off at college and he lets us use it."
"He just lets you use it and doesn't worry?"
"Yeah, he's cool. He said if we get hurt don't sue him. We told him okay."
By this time we were on Lamberts Cove. "Right up here on the right," Kalib said. I stopped. They got out and walked down a dirt track into a field below the road.
From where I was I couldn't see the ramp. I watched them chatting as they strolled around a bend and disappeared from sight. They were unconfined and on the loose. I am glad for them, because they are learning that sense of freedom that may be an essential ingredient for us to take the risks that will be required to solve the problems of our times. It's the feeling of knowing that we can do anything,
It was exciting to come back from my sabbatical and lend a hand. It has now been 18 months.
My fear, upon returning, is described beautifully by a story I read in the book Presence, written by Peter Senge and three collaborators. A Jamaican man was diagnosed with a terminal disease. After consulting a number of doctors, all of whom concurred with the diagnosis, he went through the usual period of denial. But gradually, with the help of friends, he came to grips with the fact that he would only live a few more months. "Then something amazing happened," he said. "I simply stopped doing everything that wasn't essential, that didn't matter. I started working on projects with kids that I'd always wanted to do. I stopped arguing with my mother. When someone cut me off in traffic, or something happened that would have upset me in the past, I didn't get upset. I just didn't have the time to waste on any of that." Near the end of this period, he began a new relationship with a woman who thought he should get more opinions about his condition. He consulted some doctors in the U.S. Soon after he got a phone call saying, "We have a different diagnosis." The doctors told him he had a rare form of an entirely curable disease.
Here's the part of the story I love.
He said, "When I heard this over the telephone I cried like a baby, because I was terrified that my life would go back to being like it was before."
That's how I was feeling about the company. In my absence it had changed. Now I was afraid we would go back to being like we were before. But we haven't. Not yet anyway.
We continue to decentralize management, and we sense new urgency and great progress in new endeavors we've begun. We seem to have new determination to honor our long- term commitment to restoration and improvement of the region where we work and live. At this point in our sometimes ragged and thorny history we seem to be more willing to take risks, to venture out onto limbs we may previously not have, to behave, on occasion, outrageously, and we are beginning to recognize that the frame of the cathedral is slowly emerging.
Along with outrageous behavior, long-term thinking, and a sense of freedom, another essential ingredient for making change might be unshakeable hopefulness (and even optimism).
In an essay called The Death of Environmentalism, activists Michael Shellenberger and Ted Nordhaus condemn the cynicism, ineffectiveness, gloominess, and narrow thinking of the environmental movement. They compare it to the movement built by Martin Luther King that was broad, inclusive, non-threatening, and effective. They say, "Martin Luther King, Jr.'s 'I have a dream speech' is famous because it put forward an inspiring, positive vision that carried a critique of the current moment within it. Imagine how history would have turned out had King given an 'I have a nightmare' speech instead."
It makes no sense to me to dwell on all that is so wrong unless we recognize equally all that is so right. I believe in the essential goodness of people. I have a deeply embedded sense that if we are encouraged sufficiently, we will choose to care about the common good. There's nothing to keep us from building those cathedrals. We only need to be certain where we're headed, so we don't climb the ladder and find that it's leaning against the wrong building.
I don't pretend to know how much we can build on the foundations we have created, or to what extent our experience in business can help others toward a path to economic democracy, environmental restoration, and local community commitment. But maybe, just maybe, we can combine bold behavior, patience, freedom, and hopefulness into a uniquely potent combination that will prove that Gandhi's words were true when he said, "First they ignore you, then they laugh at you, then they attack you. Then you win."
---
ABOOUT JOHN ABRAMS OF THE SOUTH MOUNTAIN COMPANY
John Abrams is the president and CEO of South Mountain Company, Inc., a forty-year-old employee-owned design and building company located on the island of Martha's Vineyard, Massachusetts and the author of The Company We Keep: Reinventing Small Business for Community, People and Place (Chelsea Green Publishing, 2005). South Mountain Company is committed to a Triple Bottom Line, which means that people, planet, and profit are all equally important to us – balancing profits with environmental restoration, social justice, and community engagement.