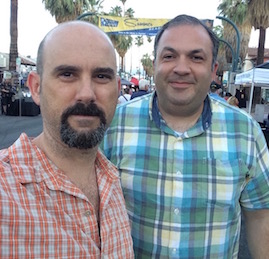 Loyal Friend for 22 Years, Art
Those of you who know anything about my writings or political belief system might find the following surprising: Donald Trump and I share at least one value in common. Is it greed? Immorality? Do we both value self-aggrandizement at the expense of the community/country? No – at least, I hope not! It's loyalty.
Yes, loyalty. It's one of Trump's prime virtues. This is not to say that he is loyal, because his primarily foci are power, manipulation of others, and the unceasing attempt to prevent himself from being wrong or embarrassed. Such is the pathology of narcissism. No, he values loyalty in others – akin more to obedience and a willingness to do whatever it takes for Trump to maintain power, manipulate others, and the unceasing attempt to prevent himself from being wrong or embarrassed. This is why he praises individuals as "a great guy" and "the best" when he has an optimistic assessment of their willingness to put him before country, and then they are "fired" and forced to resign when they land short of perfection. We have every reason to believe that Trump pushed yet another key member of his cabinet out – Kristin Nielsen – because she wouldn't "toe the line" and do illegal things on the Southern border in an effort to keep his base –  you guessed it, loyal.
I would like to think that I am not drawn to loyalty for such petty and egocentric reasons as Trump. Yet, I do know that loyalty is a virtue, and I was thinking about it much lately. There are many times I can recall either feeling like loyalty and associated values such as dedication, friendship, character, and respect were very important to me. Yet, it is the situation with a childhood friend of mine (let's call him Peter) that makes me think of this special value loyalty.
You cannot just decide or claim that you have honor – or loyalty, or courage. You have to pay for it. ~ John A. Marshall
Peter was my best friend since 6th grade. There are many stories I can recall, and in years-past, when we got together annually or so, it was always a great time. It was enriching to the soul to see Peter, to take photos with cigars in our mouths and bourbon in our glasses, and to appreciate the fact that though I am politically liberal and have grown into a kind of a scholar and businessman, and he a top-ranked Border Patrol official, we had a mutual respect.
However, a couple years ago he began a period of infidelity. Now, I do not like his wife. I don't think she is a mature or nice person. Like his father, the feeling that his marriage was failing was awful, though he usually keeps his emotional cards close to the vest. I get that marriages fail. But he stepped out on her, and it did not reflect particularly well on him. Was I loyal, though? Did I still consider him my best friend? Yes, I did that bit of mental gymnastics. When he purchased his Jaguar F-Type, did I balk, or judge? No, not really. I wasn't sure that it reflected well upon him. It made him look a bit "mid-life-crisis-y" but I too like shiny things and powerful motors. These were just little potholes in the road, nothing to flip the vehicle of our friendship over.
To me, this is bigger than football and it would be selfish on my part to look the other way. There are bodies in the street and people getting paid leave and getting away with murder. ~ Colin Kaepernick
The past year, however, has shown how little he appreciates our friendship, in my opinion. His life-long loyalty has withered on the vine, it seems. It started when a hurricane was scheduled for days to possibly directly hit us here in Charleston. It was a miss, but you would think that a loyal and honorable friend would be sure to call and ask how it was going, maybe even ask if there was anything he could do. Class would dictate as much. I get that folks get very busy, but come on. I have to assume he posted pictures of himself working out or smoking a cigar during that period – ample time to reflect on what his supposed best friend was going through.
My birthday came and went the other day, with no card, call, gift, or even an email from him.
It seems as if we have begun to part ways because of his political views. Peter's role in the Border Patrol is that of P.R. official for his station, more or less. He interacts with the media, and has faced more than a few instances of agitators or protestors or whatever you want to call them giving his office scrutiny, criticism, and disapproval.
I get that the media and activists can come on a little strong or even be misguided. But I fear that his colleagues, FB news feed, and on-the-job experiences have soured him to liberals and the media. Trump, of course, demagogues by linking liberalism + the media into a category of n'er-do-wells to seek to destroy his presidency using nefarious means.
As I noted, the one thing Trump does not want is to be shown to be a fool, smaller in some measure than others, inadequate, or corrupt. Since he is most of these things already, his natural enemies would be political liberals, true Christians, much of the mainstream media and all of the left-of-center media, and other conservative/pro-establishment institutions (such as the intelligence community, federal law enforcement agencies, etc). My hunch is that Peter looks at my blog, sees ANTIFA and other left-leaning organizations, and feels great institutional pressure to be a good Border Patrol Officer, and can't square the circle.
The making of friends who are real friends, is the best token we have of a man's success in life. ~ Edward Everett Hale
Since the hurricane, there has been virtually no contact. I wrote him, I messaged him, etc. I know he is alive and well because we have a mutual friend and he is very active on Facebook. In fact, the other day he posted a picture of himself shaking Donald Trump's hand. I couldn't believe it. He referenced feeling fairly proud to shake a President's hand. I just shook my damned head. I'm not sure that I would hold that against him, except for the fact that it shows where his head is. This man has virtually dropped me as a friend and is seen just two mental steps away from what the Germans showed to Hitler in the late 30's. I can't help but worry that the hypermasculinity, unscrupulousness, and chicanery seems to be lost on Peter. I wouldn't expect him to stand there, arms crossed, while all these fawning yes-men looked on, but come on! Posting it to Facebook??
I have a bit of an issue with loyalty, and when I feel a friend is "flaking" or otherwise falling short, it's hard for me not to be offended, judgmental, and offer the cold shoulder. It seems to me that he certainly is responsible for this unusual gulf in our relationship, though my wife would probably point out that I could have picked up the phone and asked him what was the matter. I can tell from his FB account that he is alive and well and usually showing off some Border Patrol pic, picture of him working out, and family shots and all that. I feel like his life is going on as usual, except sans me.
Peter is a big fan of samurai culture. He reads about it, named his child Takeda, owns armor and swords, and earned a black belt in the katana. One of the cardinal virtues of a samurai was loyalty to one's shogun. Of course, I am not Peter's lord and master, but the discipline of maintaining fidelity to a cause or a loved one is roughly the same. The two are about as similar as a horse and a zebra are, to put it metaphorically. Peter's shogun is, in a way, the Executive Branch, which is currently occupied by a self-aggrandizing, egocentric, iconoclastic con man. I think in a way, Peter has to balance his career and other aspects of his life. It's as though we are all going through a kind of hell with Trump as president, and Peter has a front-row seat to the spectacle. He lives it. He is responsible for dealing with a prying and subversive media which is responsible for (obsessed with?) investigating things like family separation at the border.
Cognitive dissonance is a potent phenomenon, and only a person of the highest character (a rare person, indeed) could both remain a) a fairly liberal and reasonable individual and b) do what Trump and his underlings command.
We must not confuse dissent with disloyalty. ~ Edward R. Murrow
The U.S. military culture is somewhat similar to the samurai culture of feudal Japan in that masculinity is prized far above femininity, obedience to authority and unthinking loyalty is urged. Shame is big. Hierarchy. Social psychology teaches us that obedience to authority is a very pernicious phenomenon, one that fundamentally alters one's psychology. We see it in landmark experiments and we saw it with Nazism. And no, it is not farfetched or disingenuous to compare America now to other cultures in the past that became martialized or which experienced a cultural conflagration. Think of Rome, Athens, and Nazi Germany. Here is a link comparing Trump to fascism. It shows eminent Holocaust scholar Christopher Browning comparing America to Germany in the 1930s. A quote: "[W]hen Browning makes comparisons between the rise of Hitler and our current historical period, this isn't some keyboard warrior spouting off. It is one of the most knowledgeable people on Nazism alive using his expertise to sound the alarm as to what he sees as an existential threat to American democracy." Filmmaker Michael Moore feels the danger to America posed by fascism, corporatism, the mainstream media, and the modern Republican strain of politics is so great that he directly and jarringly compares Trump to Hitler, and America to Nazi Germany. "We are in a war to get our country back," he said. "Anyone who doesn't understand that is going to be sorely disappointed in the results of what's about to happen in the next few years with Donald Trump" (source).
People grow up, they change, we age, and everything eventually dies. I get all that. But it is with a very heavy heart that I reflect, Peter has lost his loyalty to me. He is either angry with me for a perceived slight (which he doesn't cop to) or is jealous or resentful or some pernicious thing. I am not sure if it is internal (the result of morphing and evolving values on his part) or if it is more external (when one finds oneself working in the branch of government headed by either a madman or a tyrant [however I might want to characterize the Commander in Chief]), there are powerful social forces that make it challenging to turn one's back on one's livelihood. We're talking about cognitive dissonance and other social psychology phenomena relevant to the way that the situation is seen as all-powerful in determining one's behavior, one's actions, one's feelings, and one's values.
Questioning the system is the height of loyalty. The American system differs from other systems in that my loyalty is to defend the Constitution, not to follow orders. Our loyalty is to fairness. ~ Charles Swift
The Japanese culture, obviously descended from the feudal culture that saw the power and glory of the samurai, has a belief that borders on superstition. It is said that a person should never give the gift of a knife to a friend, because it portends the severing of friendship. More than once have I thought about the symbolism and considered sending a knife as a present. It would be grand and impactful and such, but would seal our fate forever. Peter might not be loyal to me as a friend, but I think we are both stubborn enough to consider that the definitive end of our relationship. I have experienced so much disappointment from "fair weather friends" and disloyalty that I don't have the guts to send him a knife. I do feel like he severed the friendship a year ago, though. Considering how much I hate Donald Trump and fascism and modern Republican values in general, to think that Peter was affected by them, I sometimes feel a sense of rage that is not easily quieted.
When Trump was elected, I felt a sense of sadness and foreboding for what it would mean for the country and for many poor and ignorant Americans, but I didn't envision that it would be a major contributing factor to Peter putting politics before friendship, expediency before loyalty. I think he should be ashamed of himself, which, not coincidentally, is a major phenomenon in Japanese culture. Many samurai and World War II Japanese soldiers "fell upon their sword" and committed hara-kiri to avoid living with shame. I wouldn't want suicide for Peter, but I don't appreciate that he (seems to) feels that he can behave with disloyalty and dishonor and face no moral cost whatsoever. It speaks ill of both his character and the strength of our friendship for all those years. Ω
---
"I believe there are more instances of the abridgment of the freedom of the people by gradual and silent encroachments of those in power than by violent and sudden usurpations."  ~ James Madison
---
NEXT UP: BLOG ABOUT VALUES entitled "Self-Improvement Has Much to Do with Values"