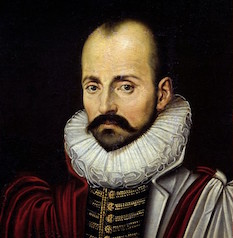 The Man, the Myth, the Legend
Some Michel de Montaigne quotes, such as the following, are abstruse and unwieldy: "Difficulty is a coin which the learned conjure with so as not to reveal the vanity of their studies and which human stupidity is keen to accept in payment." Other Montaigne quotes are as accessible, substantive, and as beautiful as a ripe peach: "It is only a fool who never suspects he could be foolishly mistaken." The French essayist's study of "the ancients" as well as his own works place quotations in their proper place: upon high.
This serious skeptic's writings have influenced the likes of Thomas Jefferson and the incomparable Voltaire, about whom scholar Daniel N. Robinson tells this story: "Voltaire had a splendid model for…criticism – Michel de Montaigne, whose famous Essays (1575) celebrates secular knowledge, common sense, common decency, the right way to work through problems, the philosophies worth having, and the gentle ridicule of the pomposity of self-appointed authority."
Indeed, we are all made better by having books such as Montaigne's Essays, chock-full of brilliant Montaigne quotes, to console us, challenge us, and critique us. Gore Vidal extols the virtue of Montaigne quotes when he wrote: "The greatest action of this man of action was to withdraw to his library to read and think and write notes to himself that eventually became books for the world."
Scholar Jennifer Hecht said that the renowned and influential essayist's advice is that "life is good, but in order to live well one must study one's own psychology with patience and intensity."
---
I found many of the following Montaigne quotes in his Essays, and he quoted the ancients liberally, so I thought I would just include quotes he found to be worth repeating herein. The unlabeled are Montaigne quotes, and if it is a Cicero or a Horus quote, I note it. 
Cicero says that to philosophize is nothing else but to prepare for death. This is because study and contemplation draw our soul out of us to some extent and keep it busy outside the body; which is a sort of apprenticeship and semblance of death. Or else it is because all the wisdom and reasoning in the world boils down finally to this point: to teach us not to be afraid to die.
The strangest, most generous, and proudest of all virtues is true courage.
I am further of opinion that it would be better for us to have [no laws] at all than to have them in so prodigious numbers as we have.
No one is exempt from talking nonsense; the misfortune is to do it solemnly.
The most manifest sign of wisdom is continued cheerfulness.
Confidence in another man's virtue is no light evidence of a man's own….
---
If you appreciate Montaigne quotes, check out the blogs that feature wisdom quotes HERE.
---
He who fears he will suffer, already suffers because of his fear.
I prefer the company of peasants because they have not been educated sufficiently to reason incorrectly.
Has it not happened to me, not once, but a hundred times, and every day, to have embraced with these same instruments, in this same condition, something else that I have since judged false?
The memory represents to us not what we choose, but what it pleases.
To what purpose should I trouble myself in searching out the secrets of the stars, having death or slavery continually before my eyes?
Pride or reputation has sent some men all the way to the stake to maintain an opinion for which, among their friends and at liberty they would not have been willing to burn the tip of their finger.
The writings of the ancients, I mean the good writings, full and solid, tempt me and move me almost wherever they please; the one I am listening to always seems to me the strongest; I find each one right in his turn, although they contradict each other.
Man is certainly stark mad: he cannot make a flea, yet he makes gods by the dozens.
The question is, if Ptolemy was once mistaken on the grounds of his reason, whether it would not be stupid for me now to trust what these people say about it; and whether it is not more likely that this great body that we call the world is something quite different from what we judge?
The thing of which I have most fear is fear.
Let us permit nature to have her way. She understands her business better than we do.
There is nothing which custom does not, or may not do; and therefore, with every good reason it is that Pindar calls her the ruler of the world.
People are nothing until they are excited.
We can be knowledgeable with other men's knowledge, but we cannot be wise with other men's wisdom.
I have never seen a greater monster or miracle in the world than myself.
Lying is an accursed vice. It is only our words which bind us together and make us human.
The value of life lies not in the length of the days, but in the use we make of them.
Our eyes see nothing behind us. A hundred times a day we make fun of ourselves in the person of our neighbor and detest in others the defects that are more clearly in ourselves, and wonder at them with prodigious imprudence and heedlessness.
The great and glorious masterpiece of man is to know how to live to purpose.
What I write here is not my teaching, but my study; it is not a lesson from others, but for me…
Painting myself for others, I have painted my inward self with colors clearer than my original ones. I have no more made my book than my book has made me—a book consubstantial with its author, concerned with my own self, an integral part of my life; not concerned with some third-hand, extraneous purpose, like all other books.
---
 Montaigne quotes are just the beginning of the awesome collection of quotes here on Values of the Wise. Search for others HERE.
---
Even if we could be learned with other men's learning, at least wise we cannot be except by our own wisdom.
Marriage, a market which has nothing free but the entrance.
Judgment is a tool to use on all subjects, and comes in everywhere… It plays its part by choosing the way that seems best to it, and of a thousand paths it says that this one or that was the most wisely chosen.
Skepticism is more easily understood by asking "What do I know?"
There is no man so good, who, were he to submit all his thoughts and actions to the law, would not deserve hanging ten times in his life.
We must push against a door to find out whether it is bolted or not.
When someone opposes me, he arouses my attention, not my anger. I go to meet a man who contradicts me, who instructs me. The cause of truth should be the common cause for both.
We believe nothing so firmly as what we least know.
Socrates…brought human wisdom back down from heaven, where she was wasting her time, and restored her to man….
Each person calls barbarism whatever is not his or her own practice…. We may call Cannibals barbarians, in respect to the rules of reason, but not in respect to ourselves, who surpass them in every kind of barbarity.
A wise man sees as much as he ought, not as much as he can.
I have seen no more evident monstrosity and miracle in the world than myself.
I do not care so much what I am to others as I care what I am to myself.
When I am attacked by gloomy thoughts, nothing helps me so much as running to my books. They quickly absorb me and banish the clouds from my mind.
If I speak of myself in different ways, that is because I look at myself in different ways.
There is nothing more notable in Socrates than that he found time, when he was an old man, to learn music and dancing, and thought it time well spent.
I am afraid that our eyes are bigger than our stomachs, and that we have more curiosity than understanding. We grasp at everything, but catch nothing except wind.
Nothing is so firmly believed as that which we least know.
Valor is stability, not of legs and arms, but of courage and the soul.
Nothing is so firmly believed as that which we least know.
I find I am much prouder of the victory I obtain over myself, when, in the very ardor of dispute, I make myself submit to my adversary's force of reason, than I am pleased with the victory I obtain over him through his weakness.
If there is such a thing as a good marriage, it is because it resembles friendship rather than love.
Obsession is the wellspring of genius and madness.
---
In addition to Montaigne quotes, HERE you will find La Rochefoucauld quotes, Voltaire quotes, and Benjamin Franklin quotes
---
Truth and reason are common to everyone, and no more belong to the man who first spoke them than to the man who says them later.
Look on each day as if it were your last,/ And each unlooked-for hour will seem a boon. ~ Horace
Fortune does us neither good nor harm; she only offers us the material and the seed of them, which our soul, more powerful than she, turns and applies as it pleases, sole cause and mistress of its happy or unhappy condition.
Just as study is torment to a lazy man, abstinence from wine to a drunkard, frugality to the luxurious man, and exercise to a delicate idler, so it is with the rest. Things are not that painful or difficult of themselves; it is our weakness and cowardice that makes them so. To judge of great and lofty things we need a soul of the same caliber; otherwise we attribute to them the vice that is our own. 
Amid feasting and gaiety let us ever keep in mind the memory of our condition; and let us never allow ourselves to be so carried away by pleasure that we do not sometimes remember in how many ways this happiness of ours is a prey to death, and how death's clutches threaten it. Thus did the Egyptians, who in the midst of feasts and their greatest pleasures had a skeleton of a dead man brought before them to serve as a reminder to the guests.
Thus ease and indigence depend on each man's opinion; and neither riches, nor glory, nor health has any more beauty and pleasure in it than its possessor lends it. Each man is as well or as badly off as he thinks he is. Not the man of whom it is thought, but the one who thinks it himself, is happy. And by just this fact belief gains reality and truth. 
In everything else there may be sham: the fine reasonings of philosophy may be a mere pose in us; or else our trials, by not testing us to the quick give us a chance to keep our face always composed. But in the last scene, between death and ourselves, there is no more pretending; we must talk plain French, we must show what there is that is good and clean at the bottom of the pot: 'At last true words spurge up from deep within our breast,/ The mask is snatched away, reality is left.' (Lucretius)
There is most joy in virtue when it is hardest won. ~ Lucan
All the opinions in the world agree on this: that pleasure is our goal (though they choose different means to it). Otherwise they would be thrown out right away; for who would listen to a man who would set up pain and discomfort as his goal? 
We are all forced down the same road. Our fate/ Tossed in the urn, will spring out soon or late,/ And force us helpless to Charon's bark,/ Passengers destined for eternal dark. ~ Horace
The intelligence that has been given us for our greatest good, shall we use it for ruin, combatting the plan of nature and the universal order of things, which says that each man shall use his tools and means for his advantage?  
Epicurus says that being rich is not an alleviation, but a change, of troubles. In truth, it is not want, but rather abundance, that breeds avarice. 
Our religion has no surer human foundation than contempt for life.  Not only do the arguments of reason invite us to it; for why should we fear to lose a thing which once lost cannot be regretted? And since we are threatened by so many kinds of death, is there not more pain in fearing them all than in enduring one? What does it matter when it comes, since it is inevitable? To the man who told Socrates, "The thirty tyrants have just condemned you to death," he replied "And nature, them." 
Whoever wants to get rid of the violent prejudice of custom will find many things accepted with undoubting resolution which have no support but in the hoary beard and the wrinkles of the usage that goes with them; but when this mask is torn off, and he refers things to truth and reason, he will feel his judgment as it were all upset, and nevertheless restored to a much surer status. 
When death comes, let it find me at my work. ~ Ovid
We hold together only by our word. If we recognized the horror and the gravity of lying, we would persecute it with fire more justly than other crimes. 
If falsehood, like truth, had only one face, we would be in better shape. For we could take as certain the opposite of what the liar said. But the reverse of truth has a hundred thousand shapes and a limitless field. The Pythagoreans make out the good to be certain and finite; evil infinite and uncertain. A thousand paths miss the target; one goes to it. Montaigne
It does not concern you dead or alive: alive, because you are; dead, because you are no more. No one dies before his time. The time you leave behind was no more yours than that which passed before your birth, and it concerns you no more. ~ Lucretius
If, as we who study ourselves have learned to do, each man who hears a true statement would find that is not so much a good saying as a good whiplash to the ordinary stupidity of his judgment. Michel de Montaigne quotes
The laws of conscience, which we say are born of nature, are born of custom. Each man, holding in inward veneration the opinions and behavior approved and accepted around him, cannot break loose from them without remorse, or apply himself to them without self-satisfaction. 
If you have made your profit of life, you have had your fill of it; go your way satisfied. Why, like a well-filled guest, not leave the feast of life? ~ Lucretius
Long life and short life are made all one by death. For there is no long or short for things that are no more. 
I do not speak the minds of others except to speak my own mind better.
The authority of those who teach is often an obstacle to those who want to learn. ~ Cicero
If, as is our custom, the teachers undertake to regulate many minds of such different capacities and forms with the same lesson and a similar measure of guidance, it is no wonder if in a whole race of children they find barely two or three who will reap any proper fruit from their teaching.  
Our mind moves only on faith, being bound and constrained to the whim of others' fancies, a slave and a captive under the authority of their teaching. We have been so well-accustomed to leading strings that we have no free motion left; our vigor and liberty are extinct. 
Do you not know that when death comes, there will be no other you to mourn your memory and stand above you prostrate? ~ Lucretius 
---
If you enjoyed these Montaigne quotes, you might want to read the blogs that feature wisdom quotes HERE.
---
There is nothing to which nature seems to have inclined us more than to society.
It is a dangerous and fateful presumption, besides the absurd temerity it implies, to disdain what we do not comprehend. For after you have established…the limits of truth and falsehood, and it turns out that you must necessarily believe things even stranger than those you deny, you are obliged from then on to abandon these limits.
The mind becomes accustomed to things by the habitual sight of them, and neither wanders nor inquires about the reasons for the things it sees all the time. ~ Cicero
A fair-sized stream seems vast to one who until then/ Has never seen a greater; so with trees, and men./ In every field each man regards as vast in size/ The greatest objects that have come before his eyes. ~ Lucretius
If we call prodigies or miracles whatever our reason cannot reach, how many of these appear continually to our eyes! Let us consider through what clouds and how gropingly we are led to the knowledge of most of the things that are right in our hands; assuredly  we shall find that it is rather familiarity than knowledge that takes away their strangeness, 'But no one now, so tired of seeing are our eyes,/ Deigns to look up at the bright temples of the skies.' (Lucretius)
There is nothing like arousing appetite and affection; otherwise all you make out of them is asses loaded with books. By dint of whipping, they are given to their pocketful of learning for safekeeping; but if learning is to do us any good, we must not merely lodge it within us, we must espouse it.
He will not so much say his lessons as do it. He will repeat it in his actions. We shall see if he shows prudence in his enterprises, if he shows goodness and justice in his conduct, if he shows judgment and grace in his speaking, fortitude in his illnesses, modesty in his games, temperance in his pleasures, order in his economy. 'Who makes his learning not a display of knowledge, but the law of his life; who obeys himself and submits to his own injunctions' (Cicero). The true mirror of our discourse is the course of our lives.
Neither let the youngest refuse to study philosophy, nor the oldest weary of it. ~ Epicurus
Since it is philosophy that teaches us to live, and since there is a lesson in it for children as well as others, why is it not imparted to children?
He will teach him this new lesson, that the value and height of true virtue lies in the ease, utility, and pleasure of its practice, which is so far from being difficult that children can master it as well as men, the simple as well as the subtle. Virtue's tool is moderation, not strength. Socrates, her prime favorite, deliberately gives up his strength, to slip into the naturalness and ease of her gait.
The surest sign of wisdom is constant cheerfulness; her state is like that of things above the moon, ever serene. …Why, she makes it her business to calm the tempests of the soul and to teach [people] to laugh…. She has virtue as her goal, which is not set atop a steep, rugged, inaccessible mountain. Those who have approached virtue maintain, on the contrary, that she is established in a beautiful plain, fertile and flowering…; but you can get there, if you know the way, by shady, grassy, sweetly flowering roads…. It is because they have not associated with this virtue…that there are men who in their weakness have made up this sad, stupid, quarrelsome, sullen, threatening, scowling image and set it on a rock in a solitary place among the brambles: a phantom to frighten people.
It is a strange fact that things should be in such a pass in our century that philosophy…should be an empty and fantastic name, a thing of no use and value, both in common opinion and in fact. I think those quibblings which have taken possession of all the approaches to her are the cause of this. It is very wrong to portray her as inaccessible to children, with a surly, frowning, and terrifying face. There is nothing more gay, more lusty, more sprightly, and I more frolicsome.
Dare to be wise! Begin!/ The man who would reform, but hesitates, is kin/ Unto the boor who waits until the stream is gone;/ But ever flows the stream, and ever will it flow on.
~ Horace
Those who have a thin body fill it out with padding; those who have slim substance swell it out with words.
We are all huddled and concentrated in ourselves, and our vision is reduced to the length of our nose. Socrates was asked where he was from. He replied not "Athens" but "The world."
Socrates, whose imagination was fuller and more extensive embraced the universe as his city, and distributed his knowledge, his company, and his affections to all mankind, unlike us who look only at what is underfoot.
---
 Montaigne quotes are just the beginning of the awesome collection of quotes here on Values of the Wise. Search for others HERE.
---
Let him be taught above all to surrender and throw down his arms before truth as soon as he perceives it, whether it be found in the hands of his opponents, or in himself through reconsideration.
In this school of dealing with men I have often noticed a flaw: that instead of gaining knowledge of others, we strive only to give knowledge of ourselves, and take more pains to peddle our wares than to get new ones. Silence and modesty are very good qualities.
To know by heart is not to know; it is to retain what we have given our memory to keep. What we know rightly we dispose of, without looking at the model, without turning our eyes toward our book. Sad competence, a purely bookish competence!
Off I go, rummaging about in books for sayings which please me.
The way of truth is one and artless: the way of private gain and success in such affairs as we are entrusted with is double, uneven and fortuitous.
Don't be ashamed to say what you are not ashamed to think.
Let us learn to withstand it resolutely, and to fight it. And to start to rid it of its greatest advantage over us, let us take a completely different route from the usual one. Let us rid it of its strangeness, get to know it, become accustomed to it. Let us have nothing so often in our minds as death. Let us picture it in our imagination constantly, in all its aspects.
Every one of us is a hodge-podge, so shapeless and diverse in structure that each piece, each moment, plays its own game. And there is as much difference between us and ourselves as there is between us and others.
The usefulness of living lies not in duration but in what you make of it. Some have lived long and lived little. See to it while you are still here. Whether you have lived enough depends not on a count of years but on your will.
A thousand poets drag and languish prosaically; but the best ancient prose…shines throughout with the vigor and boldness of poetry, and gives the effect of its frenzy. To poetry we must certainly concede mastery and preeminence in speech. The poet, says Plato, seated on the tripod of the Muses, pours out in a frenzy whatever comes into his mouth, like the spout of a fountain, without ruminating and weighing it; and from him escape things of different colors and contradictory substance in an intermittent flow. He himself is utterly poetic, and the old theology is poetry, the scholars say, and the first philosophy. It is the original language of the Gods.
When the mind is satisfied, that is a sign of diminished faculties or weariness. No powerful mind stops within itself: it is always stretching out and exceeding its capacities. It makes sorties which go beyond what it can achieve: it is only half-alive if it is not advancing, pressing forward, getting driven into a corner and coming to blows; its inquiries are shapeless and without limits; its nourishment consists in amazement….
There is an old Greek saying that men are tormented not by things themselves but by what they think about them. If that assertion could be proved to be always true everywhere it would be an important point gained for the comforting of our wretched human condition. For if ills can only enter us through our judgment it would seem to be in our power either to despise them or to deflect them towards the good: if the things actually do throw themselves on our mercy why do we not act as their masters and accomodate them to our advantage?
Wonder is the foundation of all philosophy, inquiry the progress, ignorance the end.
Montaigne quotes
I quote others in order to better express my own self.
The greatest thing in the world is to know how to be oneself.
My reason is not framed to bend or stoop; my knees are.
He who fears to suffer already suffer from his fear.
---
If you enjoyed these Montaigne quotes, I invite you to read blogs which feature wisdom quotes HERE.
keywords: Montaigne quotes, wisdom, quotes about personal growth, quotations about applied psychology, wisdom quotes, Montaigne quotes, philosophy and critical thinking