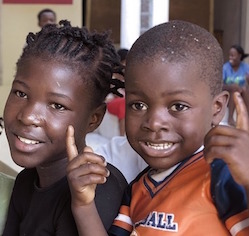 What does a person–let's confine it to Americans, in this blog–deserve? In philosophy, it is termed moral desert (as in moral deservingness). That is, as a member of society, what rights does one have to goods and benefits and opportunities? Contrast desert (pronounced "dessert") with entitlement–the rights one has based on law, contracts, and agreements. In this piece, I want to dilate on this topic, and to that end, will share a brief discussion a friend and I had. You may not be surprised to learn that I take a generally liberal position, and my friend adopts a fairly libertarian one. I am more likely to see, optimistically, that people deserve opportunity, chances, and help from society at large (i.e., the institutions of government and associated social welfare provisions). You can expect, of course, to see apt quotations brought to bear on the dialogue.
The distinction here is basically between welfare statism (which I will consider roughly synonymous with egalitarianism, progressivism, liberalism, and communitarianism – though I do see them as somewhat distinct) and libertarianism, or a minimal state philosophy.
My discussion with my friend Bob, an able boostrapper and an actual economist, more or less began with his provision of the following quote in response to a poignant article on welfare statism I submitted to him. He wrote: "You cannot lift the wage earner up by pulling the wage payer down," by William J. H. Boetcker. That perplexed me for a while, because it is a good point. I think the writer of that article, William Greider, killed it. But Bob did not remain down long.
Ever the libertarian, he asked, "So did the top 10% steal from the bottom 10%?" He is saying that those who do well for themselves are entitled to their largesse.
My reply was a bit oblique, offering up a Joel Bleiffus quote: "While race certainly has its role, American poverty is most firmly rooted in a class system—a system maintained by an economy that allocates the wealth of society to those who already have the most. One of the ways that wealth is created is to ensure that unskilled workers are not paid a living wage." This has to do with moral desert because of the operative phrase of an economy that allocates the wealth of society to those who already have the most. Do you see the active, purposeful, designed quality to that idea? Libertarians seem to think that everything is roughly fair and the chips fall where they are supposed to based on a person's moral desert – their merit, their effort, and their true deservingness. I see luck, "the system," and so on as playing a much bigger role. I think of the economic system present in America now, with its rising income inequality, shoddy healthcare, and poverty, as being a moral phenomenon. A good person might get dealt some bad cards, and they might have to spend their days walking uphill both ways.
I brought out my big gun – my late, great friend John A. Marshall. Ol' John said: "Obviously, we've got to make improvements in our economic system or we'll continue to face heavy moral consequences. That is, if you agree that the nature of the system is immoral – and if you don't agree with me, how do you describe a child dying because they didn't receive proper medical care, in this country, in this day and age!? It's priorities. And priorities reflect moral decision-making. Or shall I say, immoral." He is directly bringing moral desert into the equation – where it belongs.
Not one to turn my back on an intellectual foe as strong as Bob, I hit him with a dynamite quote by Michael Albert: "I want workers and consumers to have control over their own economic lives. I want everyone to have fair conditions that fully utilize their talents and potentials. I want incomes that accord with the efforts people expend in their labors. I want what is produced, by whom, under what conditions, and with who consuming the result – all determined in accord with enhancing human well-being and development and all decided by the people involved and affected. I want an end to hierarchies of power and wealth and to class division with most actors subordinated to an elite few. To accomplish all these ends, I favor the institutions of participatory economics – worker and consumer councils, remuneration for effort and sacrifice, balanced job complexes, and participatory planning. If someone should demonstrate that those institutions somehow fail to accomplish necessary economic functions or have social or personal by-products that outweigh their benefits – I would simply return to the drawing board. Exploitation, alienation, poverty, disempowerment, fragmenting and debilitating labor, production for the profit of a few – much less harsh homelessness, starvation, and degradation – are not like gravity. They arise from institutional relations established by human beings. New institutions, also established by human beings, can generate other vastly superior outcomes. Defining and working to attain those new institutions ought to be our economic agenda."
That is a potent quote by Albert, and it's relevant to moral desert, I think. Let me highlight his most poignant phrase: exploitation alienation, poverty, disempowerment, fragmenting and debilitating labor, production for the profit of a few – much less harsh homelessness, starvation, and degradation – are not like gravity. They arise from institutional relations established by human beings. Yes, they do. Those at the top set the agenda, call the shots, and make politicians listen. "Have you heard of the golden rule – he who has the gold, makes the rules," attributed to cartoonists Brandt Parker and Johnny Hart.
Bob replied with: "So is there a path to success and wealth without it being to the detriment of others, or should all strive towards mediocrity?"
My response was to quote statistics, in a quote by Rosa Brooks: "Even using the federal government's Scrooge-like definition, about 13% of Americans — and 18% of American children — live in poverty. They live in poverty all year 'round, not just on special occasions like during hurricanes. And they're all over this nation, not just in New Orleans." There are many who are surely deserving of all good things, but do not have proper access. They go to bed hungry, they get turned down because of a criminal record, and they have diseases that bankrupt them. This is moral desert because they are not less deserving of social goods and provisions that our very rich society certainly can make available if those with power wished. Laziness doesn't account for poverty in children.
When it comes to Social Security – aptly called an entitlement program – folks are entitled. And the Earned Income Tax Credit is another entitlement that the politicians and their upper-class patrons are willing to do for the masses. They aren't all "Let them eat cake!". Social Security is a good illustration of moral desert vs. entitlement: in this case, people who have worked enough are both deserving and entitled. But the system really does allow for a massive amount of verticality in income (vs. horizontality, if you will). "I believe that we need to develop a dispersed system of small-scale, nonpolluting economic enterprises. It is the big centralized corporate version of manufacturing and trade that makes inevitable those injustices you're talking about," said fascinating, "salt of the Earth" writer, Wendell Berry.
It is worth pointing out that there are cases when someone is entitled but not deserving. Consider a massive inheritance that somehow escaped much estate tax. That person did so legally, and so they are entitled to it. But what about a person who works very hard and does all the right things but just isn't lucky or doesn't typify the Horatio Alger Myth – are they deserving? Maybe yes, but in this case, without rich relatives who passed away, they will not be entitled to any windfall.
In regard to my contention about the 18%, Bob replied: "I'm not so sure of that fact, I find it easy to see 1 in 5 of the people I meet being, well not lazy, but willing to accept less rather than do more." He has a decent point. He is talking about moral desert, if you think about it. That can easily be a snapshot, though. I mean, I sit on the couch and drink beer, and so does Carl Icahn. By and large, I think people will rise up as high as the limits allow. Over time, many folks get downtrodden, and, if viewed out of context, they seem lazy.
Bob retorted: "That is way, way wrong. Very few actually rise up to their potential. All the terms you are throwing out are relative terms. The poor in our country have cell phones, TV, A/C etc. Compared to other countries, our poverty level is more like middle class." That's an interesting point. He added: "Unless people have sufficient self-determination and desire, most rise to their level of comfortable incompetence." Sounds like a solid, libertarian position.
The Achilles of liberal thought, William Greider, wrote this: "The nation has just experienced a generation of stagnation and swelling inequality, with millions losing personal status, but also their hopeful sense of the future. What does the political system propose in response? More tax breaks and tax forgiveness for the rich and powerful, for the ambitious managers and investors. More disappointment and inequality for citizens down below. And more looting of government."
I continued: "I don't know how clearly you see or miss the move to the right in recent decades. To wit: "America has already become perhaps the harshest and most unforgiving society among the industrial democracies, and life is about to get even harder for the unlucky as the [Bush] administration reckons to shift the tax burden even further away from the wealthy and toward wage earners." (Bill Moyers). That was in 2006 or -7. The income inequality in this country is staggering, and Trump and the GOP want to slash corporate rates and take care of the 1% even more. Eventually, it reaches absurd proportions."
Further, I noted: "I can make common cause with you about denouncing crony capitalism. "The public was outraged when, in 2008, Wall Street firms (some on taxpayer-subsidized life support) handed out $16 billion in bonuses. But this figure was less than half the amounts paid out in 2006 ($34 billion) and 2007 ($33 billion). If greed is the reason they don't deserve the money now, on what basis can it be said they deserved the money then?" This is a quote by noted philosopher and generally, a communitarian, Michael J. Sandel.
Bob offered: "Oh, that was simply theft. Done legally but still theft." He is talking clearly there about entitlement (done legally) vs. moral desert (it was theft). Not shy about offering up a compelling libertarian argument, Bob pulled this exceptional case out in retort: "What about the guy that went to the Yukon, refurbished an old dredge to mine gold, and is now worth half a billion dollars? He risked his life and life savings. Is there a path to wealth that does not negatively impact others, or should the gold miner give up half his wealth to those who need it more?"
My response was really about moral desert and social participation:
"It depends on what relationship the bootstrapper would prefer to society. Does he wish to hoard the gold and remain in the state of nature? Or does he see himself as a part of society? Those who want to benefit from all that society has to offer and be a part of it must be a part, period. If he prefers to live on the Galapagos, then so be it. But society has needs, and it is a right of others to have health care, a job if they are willing to work it, education for their children. These goods are not just the rewards for inheritance, luck, and brains. The four-year-old in with a recurrent cough deserves care, no matter how much gold that prospector took out of the ground."
He returned a nice, long response: "I can only go so far with that. Yes, children, elderly, disabled etc. should be taken care of. There is WIC, EBT, family assistance, Medicaid, housing, energy assistance and free cell phones. No. It isn't a perfect system, but could fine-tuned. No child in America has to go hungry, not have a home, not receive medical care, not have the light or heat on or not have communication. No one is denied these programs if in need. I'm leery of everything being a right; that is so subjective. For instance, one could argue that food is a right because it is a precursor to health, or energy is a right because it is a precursor to not freezing to death, it is a slippery slope, once all creature comforts are taken care of where does it go? Having a 'living wage' is a right. A gym membership so as to stave off diabetes? We have a right to equal opportunity and that needs handled immediately. With equal opportunity, we have the right to support ourselves in all ways, food energy, health care education etc. some will, some won't, so what! We make our own choices, if all is given by a society then these choices are removed along with some liberty. Remember, one should be free to run their body, soul, morals or mind into the ground if they so choose. All should have an equal right to earn money to pay for life's needs or squander it on an iPhone instead of paying for health insurance if one chooses. Things that are earned have value, things that are expected to be given lose their value, then another 'need' fills the void."
Libertarian philosophy makes it all sound so easy – you've got your rights, now go get to it.
He also lobbed this: "You never hear the argument fair from those that give to society, only from those who take." Wow, Ayn Rand would be so proud of you, Bobby. I retorted: "I was lucky enough to be born into a time and place where society values my talent, and gave me a good education to develop that talent, and set up the laws and the financial system to let me do what I love doing—and make a lot of money doing it. The least I can do is help pay for all that," which is a monster quote on morality and responsibility by Warren Buffett. I acknowledged that he was right – a lot of people do lobby for the side they are on. It's probably, as he is wont to say, mere tribalism.
He topped it off with Mr. Self-Reliance, Ben Franklin: "To give a man welfare, you have to steal his soul." My reply was: "That is one of those quotes which is true to a point, and a number of opposing quotes extolling the virtue of mercy, love, charity, and compassion can easily be found. I would direct you to the red words in the New Testament."
You can see why I like Bob, not just from this witty repartee, but indeed from the following: "I understand my outlook on this is unique, I grew up in the ghettos of NYC and Akron. Mom worked three jobs and never took anything from the societal system, as a single mom of three children she could have. She didn't, she worked her ass off. I watched this as I saw those around us cashing in on " the system" as much as they could. Yep, you bet this formed some of my opinions and earliest memories. One time, and one time only people from the church brought boxes of food. Mom threw a fit! She asked them to take it back, with hunger pangs I was only 8 years old as I watched them beg her to keep it. To this day I keep a jar of wheat germ in my home as a reminder of all she sacrificed, and of her determination to support her family (wheat germ fills a hungry 8-year-old belly and makes it feel good). "She didn't even have a high school education at that time and a working woman in the 60's sixties had the odds stacked against her. But see, she saw her parents immigrate from Italy (legally) with nothing but a hope for opportunity. She saw them struggle, support their family and make it with their pride supplanting victimhood. How could she not? How could I not? How can my children not? Jason, my eyes are filled with tears from remembering this. So yes, my outlook is unique on this subject." 
I, too, cry sometimes when I think of my late father's rise from poverty. He certainly was a bootstrapper, too. My dad was a good example to me in that regard.
I totally get where he is coming from. My rule of thumb is, If it can be shown that someone has equal, proper, good opportunity but doesn't work and succeed, then I say they don't pass go, don't collect $200. Would I give them a second chance after some remedial education and such? Yah. But that 1-2% of society who are criminals and sociopaths, they aren't invited. The 3-4% who are more like urchins and would indeed do the minimum because they don't really care, well, their behavior can be modified in a better system so that they get on board. Then there are 5-20% who just aren't getting the breaks and would want to do well, and need opportunity. The 1% of the wealthiest, savviest folks will do fine even if they only keep 50% of incomes over $200,000. But they would also benefit from knowing they are part of something much bigger than themselves and their country club and their yachting club. Again, I totally respect your mom. People who overcome adversity and still do the right thing deserve high praise. They are the rarefied and virtuous few. There is certainly room in my heart to give them extra credit.
The place we connect is the kind of magnanimity that we want to show to others. You want to be sure that folks are deserving and vet them against being undeserving. And I respect that. That feeling you get when you go to a black man's coffee shop or give a student a book or whatever else you do with your kids – I just have a slightly larger circle I draw. But my circle is not drawn around "all mankind" or something foolish. And maybe I draw it too wide.
He notes, amazingly, that "I've been rich; I've been poor, and neither ever had a damn thing to do with my happiness!"
"Well, kudos to you. Actually, I think a lot of poor people are happy as they could be, under the circumstances. They get an extra point for that in my book," I responded.
I hope this has made moral desert a bit more distinguishable from entitlement. Essentially, moral desert is what you deserve – because you are a person, a human being, a worker – a person of merit. Not equally, per se; just that there is a 1:1 relation between merit and deservingness. Thus, if you do the right thing and do what you're supposed to, you can earn a reward that is even greater than simply that which one deserves based on being, say, a 1-year-old child. Honor is a result of desert — some people do such wonderful things that we would say they are due honor. Entitlement, however, is just what is justifiable according to convention – such as tax laws or a contract that has been written between two individuals. So, if a person gets a $10,000,000 gift from his or her parents, they are entitled to that. But from that richer, moral perspective, we should ask if that person is deserving. If it is right that they receive such largesse. Is the relationship sufficient, for example? Is it okay that Person A gets that and Persons B through Z get exactly zero — and some of them are nurses, firefighters, teachers, inventors of helpful drugs, and volunteers? It's an interesting thing to think about. Bottom line is, capitalism is very loud on entitlement, but almost silent on moral desert. Communism sliced it differently, but also felt that effort and reward were worth dilating on. Democratic socialism (and social democratic governments) suggest that people deserve quite a bit (a more optimistic view of human nature and moral desert) and are entitled to a corresponding amount of goods because they pay consummate taxes.
I welcome you to look up capitalism, socialism, moral desert, entitlement, taxation, libertarianism, government, and other keywords in the Wisdom Archive.