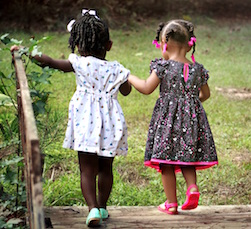 The following piece, "Improving the Character & Ethics of Children," is the last chapter in the book Values & Ethics: From Living Room to Boardroom (itself based on an Internet-based talk radio show of the same name I did in times past). My caring and articulate partner in dialogue is Bernice Lerner, Ed.D. Bernice's words are indicated by the initials BL, and mine are JM. There is also a caller who called in, and her inititals are BW. For paragraphs with no initials, assume they are a continuation of the speaker who was speaking in the previous paragraph. I highlight words having to do with values and virtues by placing them in boldface type. Enjoy this look at values, ethics, character education, and virtue.
"Virtues—such as honesty, justice, courage, and compassion—are dispositions to behave in a morally good way. They are objectively good human qualities – good for us whether we know it or not. They are affirmed by societies and religions around the world. Because they are intrinsically good, they have a claim on our conscience." ~ Thomas R. Lickona
JM: Hello, and welcome to Values and Ethics: from Living Room to Boardroom. I'm your host, Jason Merchey, and I'm the founder of Values of the Wise.
Today's show is about character, and a phenomenon called character education. We've all seen examples on television – and many of us on our very streets – of children and adolescents who are somehow "off-track," selfish, crass, violent, careless. Obviously, this has a lot to do with the family, community, political and socioeconomic environment in which the child is embedded. I am purposely leaving off religion and ethnicity because they are not, in my opinion, correlated with poor character, conduct problems, delinquency, etc. I also exclude genetics and prenatal environment because they are complex and of a different nature than what is typically considered to be "the environment" (i.e., the "nurture" half of the hackneyed "nature versus nurture debate").
Becoming educated is almost synonymous with cognitive and intellectual development, and since school is a group experience for the vast majority of America's children, a child must develop social maturity along the way. This conspicuously leaves out character education – or places it solely in the sphere of responsibility of parents and religious institutions. Do the Boy Scouts, Boys and Girls Clubs of America, daycares, Head Start classes, and public schools have nothing they should be contributing to our much-needed revitalization of citizenship? As Peter Buck said in the neat little ditty about the American armed forces, "Gun Shy": "They're so good at making soldiers/ But they're not as good at making men."…
"Parents are planters and have the wonderful opportunity to sow into their children a sense of identity and destiny based on a genuine code of ethics. This planting places a hedge of knowledge and protection that will, over time, reap a harvest of integrity and virtue." ~ Stephen G. Austin & Mary Steelman
…When it comes to a family, school, community, religious group, and society at large, developing virtues in the young is one of a country's paramount tasks. Though Spartan citizens had physical strength, skill, and endurance, and were proficient with weapons, the other aspect of the city-state's triad of excellence was virtue. Would you rather fight next to a fellow Spartan soldier who was great with the blade, strong and tough, but who lacked courage and loyalty? I think not. The same argument could be made for the citizenry; Spartan women wanted nothing more than to have a son excel in militarism. They literally gave them up to facilitate such an overarching goal. The fact that they deemphasized femininity in young girls is a fair critique – but beside the point. From what little I know of Eastern civilization, it seems fair to say that character and voluntary cooperation with societal norms (for example, filial piety, honor, and the norms of collectivism) mark the very fabric of the society. In almost every culture, and in some more notably than others (Japan, for example), honor and integrity are virtues that are prized, cultivated, and functional. It also appears that there is a correlation between the moral virtue of a culture and its ascension or decline. Apt comparisons are sometimes made between ancient Rome and modern America. Spoiler alert – Rome didn't last, and that is in no small part because of moral decay.
The questions I wish to explore today are: Can our schools be doing a better job educating children to be good people? Functional and capable citizens? Individuals who tend to behave in a moral way? Clearly, American schools have a role in the development of a child's intellectual and social capacities. But can they, without resorting to a Christian dogma, teach them to have good character? How can schools, where children spend seven or eight hours a day, play a role in creating upstanding and wise citizens? How does the character education movement jibe with the recent emphasis on testing? Join me as I speak with an expert on this topic, Bernice Lerner, Ed.D.
Bernice is an author, speaker, and consultant. She is the director of adult learning at Hebrew College and senior scholar at the Boston University School of Education's Center for Character and Social Responsibility (where she is the former executive director). Prior to working for Hebrew College, Dr. Lerner worked for Boston's Bureau of Jewish Education. She has enlightened teachers from rural and urban schools in Massachusetts, South Carolina, and Colorado, and personally taught grades 4-12. She conducts research on character education and teaches courses at B.U. in character education and also the Holocaust. She has authored many academic articles, and two relevant books: The Triumph of Wounded Souls: Seven Holocaust Survivor's Lives, and Happiness and Virtue Beyond East and West: Toward a New Global Responsibility (with Osamu Nakayama). Allow me to introduce Dr. Bernice Lerner. Hi there.
"Education commences at the mother's knee, and every word spoken within the hearing of little children tends towards the formation of character." ~ Hosea Ballou
BL: Nice to be here.
JM: May I call you Bernice?
BL: Sure, do.
JM: Alright. I'm interested in your book about the lives of Holocaust survivors. It might not be directly relevant to this topic, but tell us something about it.
BL: First, I think it is relevant to character and ethics. The book is about seven survivors. Their stories are relevant to character education because very often, the extreme sheds light on the ordinary – and these are people who endured the extreme. They know what people are capable of, both evil and good; they were witnesses and felt it on their skins.
They are a very special subset of Holocaust survivors because they went on to achieve what is daunting to most of us who have every opportunity. Here are people who came to this country in the late 1940s and early 1950s, and without knowing the language, and lacking formal education (some of them), they went on to attend college, earn advanced degrees, and achieve in their chosen fields.
I was interested in their attitudes and how the study and passion for a subject helped them to make sense of the world. Really, how does somebody go from having been a teenager who lost almost his entire family, and starving – 80 pounds at the war's end – to becoming a very prominent, well-published physicist? It raises the question: What are human beings capable of? Of course, these are people who had strong intellectual endowments, but, nevertheless, it sheds light on the capacity to realize attitudinal values, to emerge from a cataclysm wanting to do good in this world, to contribute in positive ways, and not be embittered.
"Intelligence plus character – that is the goal of true education." ~ Martin uther King, Jr.
JM: It sounds interesting, and as you point out it does seem somewhat relevant to the study and teaching of character. Why don't you tell the listener and me what character education is all about.
BL: Character education is difficult to encapsulate, but it's not something new; it's not something that just flowered in the past 10 or 15 years. Every civilization has focused on trying to inculcate good habits in the young, to educate virtuous citizens. In fact, it's the oldest mission of schools. Character education is not an "add-on;" it's integral to everything that is taught in school. Everything from how the bus drivers greet students to the comportment of the cafeteria workers and the secretary; everything that goes on in the classroom; the school's mission and motto and traditions and logos – what does it all point to? Character education is very rich and has a deep meaning. It's part of what all good teachers had in mind when they went into teaching in the first place— because they cared about how their students would turn out. It's asking the big questions: What kind of people do we want to graduate from this school? What does it mean to be a good person?
JM: Okay. It sounds like, from your answer, based on noting what it is not, that there have been some criticisms of character education in the past. What are those?
"Do not indoctrinate your children. Teach them how to think for themselves, how to evaluate evidence, and how to disagree with you." ~ Richard Dawkins
BL: There's a lot of skepticism amongst teachers: "What is this, character education – another thing we have to worry about and accomplish?" Or, there are organizations that come in with this sort of "Rah-rah! Character Education!" For example, "Here are some posters you can put up and some plays you can do with your kids!", but without any sense of the deeper meaning of character education. It's really about looking at whatever curriculum is being taught and mining it for lessons in character, and to really have the teachers examine their own attitudes and behaviors and learn how they can embrace their moral authority as educators. So, it's a fundamental dimension of good teaching and an abiding respect for the intellect and spirit of the individual.
JM: I see. Tell me more about what is superficial in regard to some of the organizations that might attempt to come in with a module or what have you.
BL: I think there's a lot of "character education lite" out there. Games and so on. Maybe those things are fine for raising awareness of virtue and helping kids to use the vocabulary of virtue, but very often, they don't go beyond that.
JM: How are virtues developed or taught?
"Integrity is the ability to discern what is right from what is wrong, acting on what you discern (even at personal cost)…. A person of integrity is true to his or her own principles and beliefs; he or she doesn't say one thing and do another." ~ Judith Barad
BL: Virtue is about the development of good dispositions and habits that become part of who that person is. At first, you may have to practice and be conscious of what it is that you'd like to be; teachers may have to get students to practice responsibility. Until it becomes habit. When it does, it becomes part of who that person is— engraved in the person. According to Merriam-Webster, character is derived from the verb charassein, meaning "to sharpen, cut in furrows, or engrave."
JM: I see. There's probably some disagreement about what the application of virtue in modern-day America ought to be. I'm thinking of William Bennett's book, The Moral Compass, and I think he published a similar book that might have even had virtue in the title. He was writing about what I think is a type of character education, and some folks would take issue with that angle because it is rooted in a stale traditionalism and obeisance to orthodoxy and theology.
Regarding character education, if two folks propound two different views of ideal moral teachings, one based on scripture and one decidedly secular, does that raise the question of objectivity when it comes to inculcating character in children? When Mormon polygamists or Jehovah's Witnesses teach their children what the world is about, what good values are, and how to be a man (or woman), are they teaching the same principles – or qualitatively different ones?
Let me put this another way: Do you think that virtue is an idea that has some sort of objective, prima facie definition, or do you believe that different ideologies and factions can put their unique (perhaps, dubious) stamp on the process? What I'm getting at is: Will a child develop a somehow different conception of character depending on which teacher teaches them and what ideology they have been influenced by?
"All decent people have an understanding of what is right and just." ~ Bernice Lerner
BL: You want to distinguish between virtues and subjective values and political viewpoints. Virtues are good habits and dispositions that lead students to responsible and mature adulthood. Virtues ought to be our foremost concern in character education. What is often asked is: "Whose values do I teach? We are a pluralistic society and I have children from many different faiths in my classroom, different backgrounds…."
It's not about that. It's important to realize that we can disagree; two well-meaning people may have different points of view and both could be wrong. There is merit to really examining all sides of an issue and giving facts and discussing case studies, but these kinds of discussions might generate more heat than light. What we want to go back to in educating for character is virtue: universally-agreed-upon habits and dispositions that all cultures and faith traditions have always agreed to be worthwhile and good for the individual and the community.
JM: Would you say that responsibility is certainly a virtue?
"It's a matter of taking the side of the weak against the strong, something the best people have always done." ~ Harriet Beecher Stowe
BL: Responsibility is largely a virtue. You have to ask: Does it adhere to what decent people, the world over, throughout history, would agree to be true and just and good for humanity? For example, loyalty is a virtue, but there was great loyalty to Hitler; was that virtuous? Courage is a virtue; but what about a brave, evil person (suicide bombers, for example)? Courage always presupposes some kind of altruism, selflessness, and adherence to a noble cause that is good and true.
JM: Could you wrap up that point a little more carefully for me? Are you saying that courage is indisputably a virtue, or are you saying it is sort of value-neutral?
BL: It's definitely a virtue, but it presupposes goodness. A person who is courageous is also virtuous, but not if doing something that causes harm.
JM: Okay. I think a related point is also that sometimes courage can be immoderate in ways – a deficiency or an excess. At least, in the Aristotelian tradition.
BL: That's not true courage, that's rashness. That's a vice. As you noted, Aristotle theorized about the doctrine of the mean. Courage is halfway between excess (brashness) and defect (cowardice). We want to aim for (and help our students) displaying courage to the right degree at the right time for the right reasons.
JM: Got it. We have to take a short commercial break, so please stay tuned, and we'll return and continue the discussion on values and ethics and character education, here on World Talk Radio.
"The main strength of virtue ethics is its emphasis on education and habit formation as guides and channels to good living. It optimistically views the human character as clay, which can be formed in many ways, by family and society, from cradle to grave. Even if it is deformed, it can be reformed. In this system, almost no one is beyond rehabilitation." ~ Lou Marinoff
…Let's continue. I am enjoying my conversation about character education with Bernice Lerner, Ed.D., Senior Scholar at the Center for Character and Social Responsibility at Boston University. Bernice, I'd like to ask you about the difference between individual and collective values, if you will. For example, would you think that certain virtues can be emphasized, depending on the perspective of the teacher in question? Let's imagine that the teacher in question has a kind of "rugged individualistic" perspective; they could center in on autonomy and self-worth and individual excellence. When discussing with the class the origin of America, certainly their views about which virtues are worth extolling and emphasizing can be salient. Versus a teacher who, say, lives in a commune when they go home at night – he or she would tend to emphasize virtues that are about sharing, loyalty, and cooperation. All are virtues, are they not? If my question makes sense…
BL: I think what you might be talking about, and correct me if I'm wrong, are personal preferences that the teacher has; how a person chooses to spend their free time or what they choose to do for work. But, again, it's not really about virtue. You can live in a commune and be a very honest and trustworthy person, or be a rugged individual and be a very honest and trustworthy person.
"Character consists of the moral awareness and strength to know the good, love the good, and do the good." ~ Thomas R. Lickona & Michael S. Josephson
JM: Fair enough. I would point out an analogy that I think highlights the fact that it is human beings who are doing the teaching, and when facing "the hours," if you will, their preferences and biases are not probably able to be totally disconnected from their function as teacher.
In psychotherapy, which is not terribly different from education, the therapist at once accepts that they will necessarily bring their own values to the therapeutic relationship and tries to limit doing so to a degree that won't unnecessarily bias the service they are supposed to be providing the client. A therapist can just as realistically read altruism or loving–kindness or "drawing boundaries in preservation of the self" in their client's situation. Not everything can equally be highlighted, or taught, due to time constraints and the limits of attention. Freud saw what he saw in patients, Albert Ellis saw what he saw in clients – and Virginia Satir saw something different still. I think you are claiming that there is never "value judgment" present in character education, and I'm not sure that's possible.
When it comes to studying something like literature, a teacher who is, let's say, sensitive to the idea of character education and how everything about the curriculum ought to reflect virtue when possible, it seems as though they have a choice about what they emphasize as they are discussing what Beowulf did, said, or thought. Was Juliet demonstrating selfishness or love when she broke away from her family? Certainly, all manner of behavior can be discovered in the works of Shakespeare, and there isn't enough time, or reservoirs of student attention, to highlight myriad aspects of virtue in his plays and sonnets.
A teacher who is more individualistic in their worldview and in their values will see heroism in a character as standing alone and facing opposition in preservation of some value. Ayn Rand novels teach different virtues than Thomas More. Literature is open to interpretation, so the moral, if you will, that they have in mind for students to grasp is "shot through the prism of their own understanding." I don't think they want to emphasize relativity or subjectivism, but they are not able to subtract their own values and perspectives. I mean, these tend to be average people doing a demanding job day after day. Even Socrates had difficulty grasping/explaining justice, and he was very smart, well-intentioned, and earnest.
"As Mary Woolley, the president of Mount Holyoke, put it, 'Character is the main object of education.' The most prominent Harvard psychology professor then, William James, wrote essays on the structure of the morally significant life. Such a life, he wrote, is 'organized around a self-imposed, heroic ideal and is pursued through endurance, courage, fidelity and struggle.'" ~ David Brooks
BL: I think I understand, but I think, again, it's getting a little bit confused. If you were to ask a group of teachers if they remember someone whom they regard as "of good character," they would agree and understand if somebody else described a teacher who really impressed them in a certain way. Maybe a teacher had very high expectations and also gave a lot of support; maybe that teacher did something kind to help a student. People know examples of virtuous persons, and I think it's something that decent people would agree on no matter their penchant or leaning.
I think that you're on target in terms of literature and history; teachers already have an amazing amount of material on which they can focus and study characters. For example, questions about protagonists – the kinds of choices they made, and what those choices revealed about who they were as human beings. Certain teachers seem to have at their disposal great means for educating about character.
Nonetheless, even math and science teachers have opportunities in their classrooms to educate for character. For example, in terms of how they encourage students, or the way in which the classroom is arranged so that students have the opportunity to help fellow students. Further, there's a lot of practice and diligence that goes into repeatedly trying to puzzle out problems— persistence. Is he or she trying to model good habits and positive traits; how do they interact with students, or with their colleagues?
JM: I see. Well, perhaps character education means simply integrity, honor, honesty, and trustworthiness. If so, I see what you mean: there are only so many ways to interpret those sub-virtues. If you add responsibility, dedication, dependability, self-confidence, magnanimity, altruism, kindness, courage, wisdom, goodness and so on, it gets more and more open to interpretation and reflects more on the autonomy and predilection of the individual doing the teaching.
I do get that one can't really imagine a "good, trustworthy, unwise" individual. But, one can imagine an individual who is more autonomous than collectivist, or more confident than wise. A mother might be more caring and a father more of a disciplinarian, and neither is off-base. Well, perhaps enough said on this topic. Maybe I am confusing values and virtues.
"I decided early that I would be biased in the sense of holding fast to certain fundamental values: the equal right of human beings – whatever race, nationality, sex, religion – to life, liberty, and the pursuit of happiness: Jefferson's ideals. It seemed to me that devoting a life to the study of history was worthwhile only if it aimed at those values." ~ Howard Zinn
…Let me ask you what you think about a quotation from Lawrence M. Hinman: "Virtues are those strengths of character that enable us to flourish. The virtuous person has practical wisdom, the ability to know when and how best to apply the various moral perspectives."
BL: I think that's on target. I think that's very Aristotelian.
JM: It seems like a real challenge to work with children to develop practical wisdom. Facilitating flourishing, applying moral perspectives, promoting character, and instilling virtues are not simple matters. Einstein remarked how difficult matters involving human beings can be: "The study of physics is child's play compared to a child's play." I think it's quite a wonderful thing if a teacher is able to impart a sense of character, and virtues.
How does this perspective mesh with the idea of standards, testing, and the resultant "teaching to the test[1]?" Literally, teachers and school districts have been caught cheating, and I think cheating is growing in scope and seriousness in recent decades.
BL: Well, again, if the tests and standards are high-quality, it's very good for students to strive to achieve and to have learned a body of knowledge. Self-esteem can result from mastering a subject, reflected in students working hard to earn a certain score on a test. This is about good character; studying and hard work are ennobling. A teacher who prepares students well is also trying hard.
The questions are always: How is it done, and what gets sacrificed? But, there are ways; a very skilled teacher will be able to prepare students well, and will want to help them gain that sense of accomplishment that comes from working very hard. Academic excellence is part of true character education.
"Honesty. Loyalty. Perseverance. Creativity. Kindness. Wisdom. Courage. Fairness. These and sixteen other character strengths are valued in every culture in the world. You can get more satisfaction out of life if you identify which of these character strengths you have in abundance and then use them as much as possible in school, in hobbies, and with friends and family." ~ Martin E.P. Seligman
JM: I hear you. I'd like to present another quotation. This one has a lot of meat to it; there's a lot to agree or disagree with, depending on a person's perspective. It's by Alexandre Dumas, author of The Three Musketeers and other books: "How is it that children are so intelligent and men, so stupid? It must be education that does it."
BL: (chuckles) He probably wrote that to be very provocative. Um…
JM: Do you think that human beings have a natural inclination toward virtue that surely manifests if nothing stands in the way, or do you think it's something that is in fact inculcated in them, taught to them? I suppose this is a question about a priori and a posteriori knowledge. Consider: under a perverse society (I'm not sure if Sparta counts, but surely, Nazi Germany with the Hitler Youth and pogroms does), could not "anti-virtue" be just as easily inculcated in them? If so, it raises questions about the hereditarian (i.e., natural) aspects of virtue.
BL: I think the capacity for virtue is there, and it has to be nurtured. Of course, it's wonderful if children have good role models whom they can observe on a daily basis. If they don't get certain virtues or good moral values in the home, but spend many, many hours in the classroom, teachers are responsible as well. Obviously, I don't think that adults are stupid!
JM: Yes. I do know that in Dumas's time, and ours, there are many examples of a lack of virtue – ranging from contrary values such as selfishness, greed, and intolerance – all the way up to unmitigated evil (Pol Pot's regime; serial killers; Rwandan genocidal maniacs; introducing smallpox to American Indians as a method of extermination, etc.). Well, thank you Dr. Bernice Lerner, I appreciate your time. I would urge a person who wants to learn more about you or your work to visit http://undpress.nd.edu/books/P00910
BL: Thank you.
"Telling kids the stories of heroes is a profoundly effective approach to character education, one that can sidestep the resistance kids put up to being given rules and one that avoids the train wrecks that can result from just debating current events and 'hot-button issues.' As any parent knows, stories stick in the mind, providing a positive framework kids can say 'Yes' to." ~ John Graham
JM: With ten or so minutes to go in this show, I would like to bring a call-in guest onto the show, and speak with her about character education. She is an acquaintance of mine, a homeschool parent, and when I asked her if she had a few minutes to fill in for a guest who cancelled, she was available. I thank her for her participation. Barbara, did you hear the show with Dr. Lerner? What are your thoughts or feelings about the topic?
BW: Hi. Yeah, I did. I would want to ask her about the fact that she talks about character education being authentic and not kind of a "rah-rah!" thing. But, one of the reasons I have chosen to homeschool my children is that I just don't think it's implemented practically that way, but is a "rah-rah!" kind of thing. They spend quite a bit of time in any given week focusing on these character-building programs and in the meantime, our kids aren't really learning very much, academics-wise. Well, some are, but in general…
JM: So, are you saying that your desire to homeschool— which is by no means easy— is a) because you desire a more complete (or different) style of virtue to be inculcated in your children, or is it b) you think academics are so important that it must not be diluted in any way?
"The first step in establishing a just society is for everyone to submit to morality as the final arbiter of all human disputes." ~ Michael Boylan
BW: Well, I think it's both. If I had to name one, it would be because I don't think kids are getting a very strong academic background in public school. But certainly, homeschooling also provides a purer ethical environment, especially for young children, who are being set up to make some difficult decisions at pretty young ages (kind of the "group mentality" sort of thing).
JM: Right, I see what you're saying. I recall high school as being a challenge, and not only did that have to do with what was going on in my home life, but as you say, the garden-variety social goings-on in public schools. And probably in private schools, too. I think— and I'm kind of skating on thin ice when I say this— that it has a lot to do with how parents raise children. In addition, there is a lot in school that is superfluous to both academic and character education. I am trying to think about whether much that occurred outside of the classroom, but on campus, contributed to my character…
I think maybe sports had some positive effect, but – and maybe Dr. Lerner and I disagree about this a bit – it seems like the idea of virtue is, in part, interpreted and taught by another human being. It's not something that is kept in a velvet-lined box, or on Mount Olympus, or something of the sort. It is cultivated, modeled, refined, and developed in social relationships. Thus, it's going to be internalized differently not only based on what the youth brings to the table, but what the adult and what peers do, as well. I suppose, at best, what Dr. Lerner was communicating is that we should try to deliberately and responsibly inculcate character in children because otherwise the hustle and bustle, the grit and the toil of youth, will likely lead many to "bad habits" in the Aristotelian sense.
"Gross National Product measures neither the health of our children, the quality of their education, nor the joy of their play. It measures neither the beauty of our poetry, nor the strength of our marriages. It is indifferent to the decency of our factories and the safety of our streets alike. It measures neither our wisdom nor our learning; neither our wit nor our courage; neither our compassion nor our devotion to country. It measures everything, in short, except that which makes life worth living, and it can tell us everything about our country except those things that make us proud to be part of it." ~ Robert F. Kennedy
BW: Dr. Lerner was talking about testing, and how that can be virtuous— working hard, and so on. But again, like you were saying, we can highlight and show a preference for certain virtues over others. In a group setting, it seems like those are the virtues that get emphasized – competition, performance, achievement, "coming out on top" – by any means necessary.
JM: So, would you say that you tend to agree with the perspective that, as Dr. Lerner championed (if I have it right), character is character, and virtue transcends any one person's perspective? Or, as I kind of tend to favor, having collected thousands and thousands of quotations that have to do with values and virtues, different people see in the amorphous value, virtue, quotation, or lesson what they are ready to see, what they have been taught to see, what they want to see.
Socrates, in fact, made quite an impact on Athens – and not in a uniformly good way! – by going around acting like "a gadfly" (as he proudly thought of himself), trying to understand how the Athenians just lost a long and drawn-out war with the Spartans, endeavoring to understand virtues such as justice, truth, beauty, morality, etc. People notoriously got it wrong. Typical interaction in the agora was basically Socrates engaging in verbal judo with interlocutors of every stripe, and showing each of them in turn that they really didn't know what they thought they did.
Though he knew what virtues such as wisdom and courage were not, defining, describing, and applying them was an altogether different and more complex matter. In fact, we have many telling quotations both from and about Socrates that clearly illustrate that even he, though pronounced the wisest man alive by the Oracle at Delphi, didn't know much (in the deepest sense). It was a fierce modesty, a true philosophical perspective he modeled for us. The fact that the Athenians were so tired and suspicious of him that they put him to death stands as a gross epilogue to that story.
Remember that quote by Dumas – how is it that little children are so intelligent and men are so stupid? – it must be education and cultural norms. That these adults are supposedly able to teach virtues – discreet, unanimously-understood, terrestrial, timeless, and comprehensible – to children in American public schools…well, let's just say, I'm skeptical. I wish it were so.
"Many of the values I learned as a child, which could be boiled down to one simple phrase – doing the right thing – have shaped the kind of man I've become. Education and training helped me become a reporter, but character determines what kind of reporter I am." ~ Sylvester Monroe
BW: I think I would agree more with your perspective. If you think about it, humility and strength are both virtues, but they can easily conflict.
JM: Yes. I think part of her point is that strength is strength and it is a virtue – always was, always will be; no doubt about it. But there is much in the process of trying to understand and construe the proper meaning of the value/virtue. As understanding God is difficult – with thousands of pages written about and supposedly by him – strength is a challenge, too. For there is no Bible replete with parables, stories, testimony, evidence, examples, and inspiration for strength. It reminds me of the challenge of defining a difficult word without using it in the definition.
BW: Right. I mean, it takes strength to be modest. It's sort of like one virtue has to take precedence over another virtue. And I can see, like you were saying, that the teacher's perspective and their life experiences are really going to affect which virtues they emphasize.
JM: Yeah. I do think the idea of character education is wonderful. I mean, if I had one wish it would probably have to be that wisdom was thoroughly embedded in Americans' thinking – and actions. That would make a huge difference in our lives, our communities, our world. That would be as impactful as the printing press, cotton gin, telephone, and internal combustion engine combined. I'm just not sure that I fully understand it. Or if I do, in fact, I am a bit skeptical about the fact that it is supposed to be fairly error-proof in its implementation.
I mean, one way for a liberal, atheistic, or gay teacher to get themselves into trouble is to speak openly about values and virtues and give plenty of examples to students who have conservative parents. I know for a fact that will not go over well. There is a remarkable scene in the movie American History X, at the family's dinner table, when the white father, a firefighter, decries the lessons "that Jew" is teaching his children. Affirmative action is a hot topic, to say the least!
Or, consider the situation of a Jewish teacher or professor teaching German or Polish students in 1935. Uh-uh, that's a "no-go." German parents didn't want their kids learning about truth, wisdom, and justice from Jews, by and large. Imagine a white supremacist or a teacher who is a devout follower of Scientology in modern-day America; are we comfortable believing that they will successfully impart the lofty values/virtues of knowledge, truth, and modesty? A pot-smoking freethinker teaching the sons and daughters of WASP/capitalists?
"As a society, we are beginning to recover this age-old wisdom. Schools are taking up the work of character education. We have a renewed concern about the character of our government and corporate leaders, having learned painfully that expertise without ethics is a menace to society." ~ Thomas R. Lickona
…But, let me not hesitate to reiterate that this is just me quibbling; overall, I think character education is up there with well-funded public education, liberal education, no-cost college tuition for qualified students, STEM, and Internet-based learning as important concepts in the early 21st century. Much more important than vouchers or the testing movement.
Well, Barbara, thanks for discussing this with me. I appreciate your time. I invite you to go to my website, type in the word character or creativity or dedication and see what pops up. I also wish I could see your children when they are 18; I bet you are going to have some really educated and good young adults to show for all your hard work. I wish you the best with your courageous and ambitious endeavor.
BW: Thanks, Jason. I enjoyed it.
"In short, to arrange our schools so that caring, sharing, helping, perspective-taking, and empathizing are actively encouraged is not to introduce values into a neutral environment. It is to examine the values already in place and trade them in for a new set." ~ Alfie Kohn
JM: School is typically where a program of character education would take place. However, homes and places of worship and institutions like the Boy Scouts and the Boys and Girls Clubs of America are also bastions of character development. There are obviously a number of books out there, but below is a list of questions one can ask their child after school to keep the lines of communication open and to encourage character development[2]:
How did you make today good for others?
What character trait did you succeed at today?
What did you accomplish in math/reading/writing?
What was a success of yours today?
Who did you play/hang with at recess?
How did you show a positive attitude today?
Did you have to make any tough choices today?
How can I help you be successful?
Is there something I can help you improve on?
Show me how or explain to me how to solve a problem.
---
There are a number of podcasts on this page relevant to character education, virtue, and ethics.
---
I will now present a number of quotations about character education, quotes on virtue, and thoughts on ethics:
"Character is higher than intellect." ~ Ralph Waldo Emerson
"A good character is the best tombstone. Those who loved you and were helped by you will remember you when forget-me-nots have withered. Carve your name on hearts, not on marble." ~ Charles H. Spurgeon
"Knowledge has outstripped character development, and the young today are given an education rather than an upbringing." ~ Ilya Ehrenburg
"A virtue is an admirable character trait or disposition to habitually act in a manner that benefits ourselves and others. The actions of virtuous people stem from a respect and concern for the well-being of themselves and others." ~ Judith A. Boss
"In this competitive, ego-centered world, parents are often so intensely interested in their kids' grades and auditions and teams that their kids can easily get the impression that these things matter more than anything else. Therefore it's important to develop a family lexicon and communication pattern in which character is more highly prized than anything else." ~ Richard M. Eyre and Linda Eyre
"I have found that the greatest degree of inner tranquility comes from the development of love and compassion. The more we care for the happiness of others, the greater our own sense of well-being becomes." ~ Tenzin Gyatso, the 14th Dalai Lama
"The traits of the soul by which a human being does good things and noble actions are virtues." ~ Abu Nasr al-Farabi
"There are seven things that will destroy us: wealth without work; pleasure without conscience; knowledge without character; religion without sacrifice; politics without principle; science without humanity; business without ethics." ~ Mohandas K. Gandhi
"Greatness is not found in possessions, power, position, or prestige. It is discovered in goodness, humility, service, and character." ~ William A. Ward
"The one great requisite is character." ~ The Talmud
"A higher education is not necessarily a guarantee of higher virtue or higher political wisdom." ~ Aldous Huxley
"The cure for what we face today is very simple: ethics and integrity in business are matters of the heart. The only way to bring about real change is to change the hearts of men and women." ~ Stephen G. Austin & Mary Steelman
"As the twig is bent the tree inclines." ~ Virgil
"Virtues transcend time and culture (although their cultural expression may vary); justice and kindness, for example, will always and everywhere be virtues, regardless of how many people exhibit them." ~ Thomas R. Lickona
"In the end, education has to do with fashioning certain kinds of individuals—the kinds of persons I (and others) desire the young of the world to become. I crave human beings who understand the world, who gain sustenance from such understanding, and who want…to alter it for the better." ~ Howard Gardner
"Closely connected to the debate about a university's purpose is a question about honor: What virtues or excellences do universities properly honor and reward? Those who believe that universities exist to celebrate and reward scholarly excellence alone are likely to reject affirmative action, whereas those who believe universities also exist to promote certain civic ideals may well embrace it." ~ Michael J. Sandel
"Democracy has to be born anew every generation, and education is its midwife."~ John Dewey
"Respect children because they're human beings and deserve respect, and they'll grow up to be better people." ~ Benjamin Spock
FOOTNOTES
[1] When teachers know what specific subject matter and concepts are likely going to be on an upcoming, very important standardized test – and which are not likely to – they sometimes have a tendency to teach students in a different way. Sometimes, incentives are offered for a satisfactory result.
[2] Derived from "Tools for the Journey," National Center for Fathering.