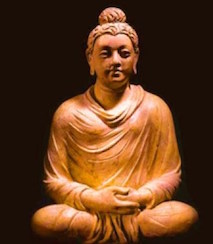 The Founder of Buddhism
Siddhartha in the ancient language of Magadhi means "one who has accomplished a goal." This is a very fitting name for a very influential historical figure that is still shrouded in myth and legend — Siddhartha Gautama, also known as The Buddha. While we do know he existed, there is still a lot that we don't know about him (and will never know). It has been over 2,500 years since The Buddha's death, and to this day his insightful and inspirational message influences and motivates hundreds of millions of people every day. This is what living a life of value is all about: pursuing a path for oneself that is functional and fulfilling, while at the same time helping, loving, and guiding others the be the best possible versions of themselves. Let me share a bit more about Siddhartha Gautama, and then I will present some very interesting quotes by the man who literally invented Buddhism.
Again, his life is somewhat shrouded in mystery and myth. What we do know is that he was a great spiritual leader who lived and practiced truth, compassion, understanding, and enlightenment in his everyday life; anyone can see that he truly lived a life of value, still inspiring millions with his philosophical system named Buddhism to this day.
How did he become The Buddha and found Buddhism? His story is interesting. Siddhartha's father, King Suddhodana, completely sheltered his son from the realities of illness, death, and suffering. Prince Gautama was raised in the lap of luxury, so to speak. Siddhartha's path to enlightenment began when he was 29 years old. His curiosity got the better of him; he went out into the real world where he realized life was not all sunshine and roses. This realization sickened Siddhartha to the core and he no longer wished to live a privileged "palace life" and found no pleasure living it. In fact, it is said he found this indulgent way of living to be quite grotesque. This is when Siddhartha began his transformation into Buddha; replacing his fine clothes with beggar's robes, renouncing all of his material possessions and luxuries in order to put him on his spiritual path to enlightenment.
This realization sickened Siddhartha to the core, and he no longer wished to live a privileged "palace life." In fact, it is said he found this indulgent way of living to be quite grotesque once he had insight about the nature of reality. This is when Siddhartha replaced his fine clothes with beggar's robes, renounced his material possessions, and began a quest for enlightenment. It is said he lay against a bodhi tree and vowed to sit there until he achieved some kind of breakthrough. His insights, which could be labeled mindfulness, grew into Buddhism.
Making the conscious decision of literally going from riches to rags takes a special kind of person. He sought out the world's best-known philosophers of his time to teach, guide, and influence him. However, what separates Buddha from other philosophers and great thinkers is the fact that he sought a method or practice that could be applied in a real-world way to help others achieve enlightenment — he was offering a process, more than an answer. His final words were: "Behold, O monks, this is my last advice to you. All compounded things in the world are changeable. They are not lasting. Work hard to gain your own salvation." Buddhism, unlike other religions, is founded on the idea that sure, one can be taught fundamentals, but that the path is not magical, it is not based on a supreme being, and that one should be able to verify anything one is taught with one's senses and intellect. It is more empowering than the concept of grace, or being part of a race of "chosen people." And it certainly doesn't suggest violence against persons of other religions.
The Four Noble Truths are the keystone of the practice.
The truth of suffering (dukkha)
The truth of the cause of suffering (samudaya)
The truth of the end of suffering (nirhodha)
The truth of the path that frees us from suffering (magga)
Below are some inspirational quotes about Buddhism, mindfulness, and enlightenment that really touch on values. Hopefully, his words will encourage and enlighten you in the same way they have for millions of others. May you find what you are looking for.
Without sorrows, none become Siddhartha Gautamas. ~ Chinese proverb
If we are facing the right direction, all we have to do is keep on walking. ~ Buddhist proverb
With our thoughts, we make our world. ~ Siddhartha Gautama
The Truth…can only be self-realized within one's own deepest consciousness. ~ Siddhartha Gautama
When no one else is visible, it doesn't mean no one is around; I am still here. A witness might notice me doing something wrong, but I see it much more deeply. ~ Siddhartha Gautama
Believe nothing that binds you to the sole authority of your masters or priests. That which you have tried yourself, which you have experienced, which you have recognized as true, and which will be beneficial to you and to others; believe that, and shape your conduct to it. ~ Siddhartha Gautama
As Siddhartha Gautama might tell you, we've got to keep changing. Even the deepest pool stagnates without action. ~ Franz Metcalf
Don't believe a teaching just because you heard it from a man who is supposed to be holy, or because it is contained in a book that is supposed to be holy, or because all your friends and neighbors believe it. Whatever you observe and analyze and found to be reasonable and good, accept that, and put it into practice. ~ Siddhartha Gautama
You are already everything you are seeking. Do not try to become something else. ~ Thich Nhat Hanh
I believe that despite the rapid advances made by civilization in this century, the most immediate cause of our present dilemma is our undue emphasis on material development alone. We have become so engrossed in its pursuit that, without even knowing it, we have neglected to foster the most basic human needs of love, kindness, cooperation, and caring. ~ Tenzin Gyatso
All the traditional realms and states of consciousness described in mystical and spiritual literature worldwide are arrived at through the art of concentration. ~ Jack Kornfield
When you meditate, you make a penetrative investigation into the nature of your own psyche to understand the phenomena of your internal world. By gradually developing your meditation technique, you become more and more familiar with how your mind works, the nature of dissatisfaction and so forth and begin to be able to solve your own problems. ~ Lama Yeshe
One who acts on truth is happy in this world and beyond. ~ Siddhartha Gautama
Hurt not others with that which pains yourself. ~ Buddhist proverb
One's ears hear a lot; one's eyes see a lot. The wise person should not believe everything seen or heard. ~ Siddhartha Gautama
If you knew what I know about the power of giving, you would not let a single meal pass without sharing it in some way. ~ Siddhartha Gautama
Without moral progress, modern Buddhists warn, our rapid technological advances could lead us down the path to disaster. ~ Judith A. Boss
Religion is not just some dry, intellectual idea that appeals to you. Rather, it should be your basic philosophy of life; something that through experience you have found relates positively with the energy of your psychological makeup. If you hear an idea that seems to make sense, first see if you can get a taste of it through experience. Only then should you adopt it as your spiritual path. ~ Lama Yeshe
Those who are free of resentful thoughts surely find peace. ~ Siddhartha Gautama
Do what the Buddhists do: every day, have a little bird on your shoulder that asks, "Is today the day? Am I ready? Am I doing all I need to do? Am I being the person I want to be?" ~ Morrie Schwartz
Hatred does not cease by hatred at any time; hatred ceases by love. This is an old rule. ~ Siddhartha Gautama
The level of your wisdom, or the depth of your insight into the nature of reality, determines the level of compassion that you will experience. From the Buddhist viewpoint, compassion with wisdom is very essential. ~ Tenzin Gyatso, the 14th Dalai Lama
I think that my contribution to the building of community life is to say, do not judge each other too easily, too quickly, in terms of ideology, of point of view, strategies, things like that. Try to see the real person, the one with whom you live. You might discover aspects that will enrich you. ~ Thich Nhat Hanh
You can only lose what you cling to. ~ Siddhartha Gautama
To conquer oneself is a greater task than conquering others. ~ Siddhartha Gautama
Here is an external site with some information about the Four Noble Truths. There is also The Eightfold Path, if you are that interested in Buddhism.
Ganae Vigil contributed to this blog on Buddhism.