Shaman Guy: The Face of the Modern Republican Party?
Things keep coming across my desk that strike the same note of fear and anger: the skullduggery, chicanery, and corruption the modern Republican Party is engaging in is a clear and present danger to the fabric of American society. We must not take this lightly, be cowed into silence, or shrink from this grave danger. Obviously, no one has to agree with my take on vigilance, patriotism, or decency—or any other value, political stance, or threat assessment—but I believe it is imperative that we stay cognizant of just how extreme, dangerous, and self-aggrandizing this broken Republican Party is.
Don't take my word for it, here is the famed documentarian Ken Burns—a man who inarguably knows a thing or two about American history:
"I think this is the greatest threat to our republic ever. Not the Depression, not World War II, not the Civil War. This is it. This moment of all these intersecting viruses, of novel coronaviruses and of racial injustice — [a] 402-year-old-virus. And it's an age-old human virus of lying and misinformation and paranoia and conspiracy. This is the pill that will kill us unless we do something." (source)
The January 6th Commission is doing some astonishing work (it is happening in real time at the time of this blog being written). It is a masterful, devastating presentation of what clearly amounts to the most egregious and repugnant actions a presidential administration has ever sought to perpetrate against the American people, American values, and the rule of law. Perhaps with the Vietnam War being on par with what Trump and the Republicans tried to do to the Republic (and at which they almost succeeded!).
Indeed, the depths of depravity to which Trump sank is endlessly disappointing and disturbing, but what also reeks is how much aid and comfort he has received from quite a number of self-concerned, Nazi-esque individuals in his orbit. These people have sold out the United States for their own dark vision of totalitarianism. What is happening now is probably keeping Margaret Atwood up at night (she is the author of the dystopian nightmare society depicted in The Handmaid's Tale).
I am appalled by the utter lack of patriotism displayed by Pat Cipollone, the White House Counsel, or Vice-President Pence (up to the moment he said, "This far, and no farther!"), or the shame of North Carolina—Chief of Staff Mark Meadows. It is the astonishing representation of the Republican Party run amok—its true nadir.
Worst of all is probably General Mike Flynn, who I saw deposed by the woman in the white hat—Congresswoman and Vice-Chair of the Committee, Liz Cheney (R-WY)—in which he literally plead the Fifth in regard to questions such as "Do you think what occurred on January 6th was illegal?" He answered the same way to the layup for a General in the United States Armed Forces ("Do you think what occurred on January 6th was immoral?"). And he disgraced himself in front of all men and women in uniform (presently, and those who have died fighting in a war) when he was not able to answer the question, "Do you believe in the peaceful transfer of power?"
You just can't make this shit up. We are talking about a slow-moving coup, seditious conspiracy, and a wholesale selling out of American values. January 6th—in all its subterfuge, inanity, and violence—almost amounted to a successful coup. It was a morally bankrupt, hair-brained, weeks-long attempt to overthrow the United States government. Anyone who tries to sell you anything less than this unvarnished truth is lying to you.
The wife of Supreme Court Justice Clarence Thomas is not only a rabid partisan, she is what the Republicans have always referred to judges, pejoratively, as: activist. And immoral and unpatriotic. Her beliefs are looney and her interest in throwing the election for the narcissistic tyrant Donald Trump truly boggles my mind. She referenced Jesus Christ when she was text messaging Mark Meadows about overturning the election. This is hypocrisy and evil of the grandest type. If I were Christian, I would be damned pissed about what was going on under the guise of religious values.
The Republican Party went from Barry Goldwater to this smug, unscrupulous, evangelical strain in the last 75 years. Reagan was a big disappointment to many as well (though he is lionized by the Right). The Grand Old Party has boasted Lincoln and Roosevelt, but also spawned the likes of Richard Nixon and Eugene McCarthy (R-MN) (from which we got McCarthyism, a truly dark impulse). Check out The Lincoln Project if you have a moment, they are stridently against Trump and Trumpism. Heck, Nixon started the Environmental Protection Agency and did some other things that make him look quite centrist, moderate, and even reasonable. Obviously, George W. Bush was a huge disappointment as President: really flawed and really quite bad for this country in many ways (yet, he now seems like a dream President compared to Trump). Indeed, moderation (Goldwater's word) has gone the way of the Dodo when it comes to conservatism.
About religious fundamentalism and repugnant values, Goldwater said many true (and now prescient things) about the influence of Southern Baptist and other religious groups' on the soul of the Republican Party (which he would prefer to be merely radically libertarian). Example:
"Mark my word, if and when thee preachers get control of the Party, and they're sure trying to do so, it's going to be a terrible damn problem. Frankly, these people frighten me. Politics and governing demand compromise, but these Christians believe they are acting in the name of God, so that can't and won't compromise." (link)
We surely have seen heroes, though, when it comes to January 6th. It was nothing less than Spartan for Cassidy Hutchinson to answer her subpoena and tell the world the truth about the positively Machiavellian stuff that went on surrounding January 6th. She is a heroine, worthy of the highest regard. It is 500 times more meritorious for her to sacrifice her career in (Republican) politics as a 25-year-old to stand up and tell the truth. She puts the thirty confederates who will not testify under oath to shame. Frankly, she and Liz Cheney and fellow Republican Adam Kinzinger (R-IL) are true-blue and worthy of the respect of all law-abiding, righteous Americans (link).
Neil Gorsuch, Samuel Alito, Clarence Thomas, Brett Kavanaugh, and Amy C. Barrett are turning out to be wolves in sheep's clothing. Well, Thomas (or "Uncle Clarence Thomas," as actor Samuel L. Jackson calls him!) made clear what his views are decades ago, when he joined Antonin Scalia as the far-right bulwarks on the Court. Now, it's just a joke what some of these folks are up to. They were put in place by a corrupt Mitch McConnell (R-KY) and a fascistic Donald Trump, and now they are remaking the socio-political landscape for decades to come. Truly activist, they overturned Roe v. Wade and have no intention of allowing any appropriate and sensical legal diminution of the extreme gun culture in the United States.
Gorsuch's majority opinion for the case of Kennedy vs. Bremerton School District is a woefully partisan and unscrupulous act. Journalist Thom Hartmann clarifies my point:
The tragedy of [the Supreme Court case Kennedy vs. Bremerton School District] is twofold. First, it shows — as have numerous other decisions—the extent to which Republicans on the Supreme Court are willing to go to twist history and reality to arrive at the conclusions they seek. Second, and frankly more important, it plays on the public's general ignorance about the true history of the Constitution's Establishment Clause (which prohibits the government from making any law "respecting an establishment of religion") guaranteeing freedom both of and from religion.

For example, Colorado Congresswoman Lauren Boebert last Sunday, campaigning in a local church, told worshipers: "I'm tired of this separation of church and state junk that's not in the Constitution. It was in a stinking letter, and it means nothing like what they say it does. … The church is supposed to direct the government. The government is not supposed to direct the church. That is not how our Founding Fathers intended it."
Hartmann also wrote, "Lying about religion—in the sphere of politics—ceases to be about religion and instead becomes about power. A power that has sought, repeatedly throughout history, to replace democracy."
Below is a picture submitted by Elena Kagan, Supreme Court Justice, to establish in her dissent why Gorsuch was absolutely disgracing himself with his bending over backwards to denigrate the Establishment Clause of the United States Constitution. Indeed, as scholar Jennifer Hecht put it, "It was Thomas Jefferson who put together the bill for establishing religious freedom in the Unites States, grounded in the belief that a person's opinions cannot be coerced. This was his great contribution and he fought for it his whole life." He would be turning over in his grave—but no more so than George Washington would be when it comes to this farce of a president, Donald Trump. These men owned slaves and they were head and shoulders above those weasels of the modern Republican Party, Trump, General Flynn, and Rudy Giuliani.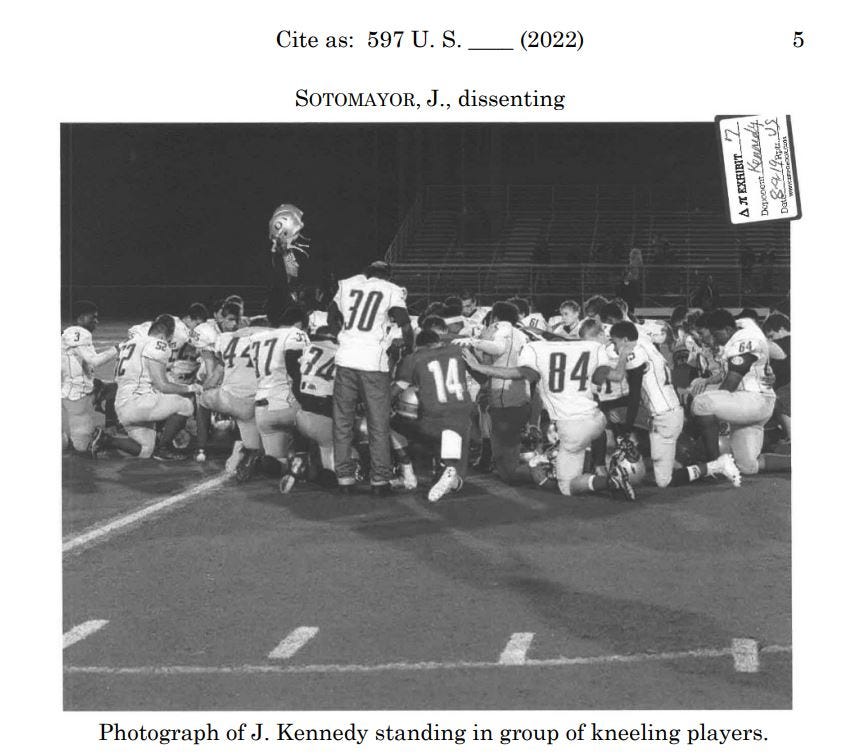 In case it's not clear, the man standing was terminated as the football coach of a high school in Bremerton for leading prayer after games. I believe it is totally inappropriate for the man to lead what amounts to a compulsory, Christian prayer during a school event. As Thom Hartmann points out:
"Gorsuch opens the decision with this line: Petitioner Joseph Kennedy lost his job as a high school football coach in the Bremerton School District after he knelt at midfield after games to offer a quiet personal prayer. Gorsuch then continued his lie, over and over again:
"his decision to persist in praying quietly without his students"
"offer a quiet prayer of thanks"
"offered his prayers quietly while his students were otherwise occupied"
"felt pressured to abandon his practice of saying his own quiet, on-field postgame prayer"
"'no one joined him,' and bowed his head for a 'brief, quiet prayer'"
"The District disciplined him only for his decision to persist in praying quietly without his players" [emphasis Gorsuch's]
"On this understanding, a school could fire a Muslim teacher for wearing a headscarf in the classroom or prohibit a Christian aide from praying quietly over her lunch in the cafeteria"
"There is no indication in the record that anyone expressed any coercion concerns to the District about the quiet, postgame prayers"
"not a single Bremerton student joined Mr. Kennedy's quiet prayers"
"Not only could schools fire teachers for praying quietly over their lunch, for wearing a yarmulke to school"
"Here, a government entity sought to punish an individual for engaging in a brief, quiet, personal religious observance doubly protected by the Free Exercise and Free Speech Clauses"
Hartmann points out that "He more-or-less lied 14 times in an official decision of the Supreme Court of the United States of America. I don't believe that's ever happened in our history."
Here is an example of an actual good American exercising his right of free speech (without blurring the line between church and state), Colin Kaepernick kneeling to protest social injustice, about which the Right is obsessed (source).
What we have here is the Republican Party completely off the rails. Not a day goes by that the "Q-Anon wing" of the GOP spouts lies about public health, lies about liberals, and lies about Biden. The findings of the January 6th Commission are ensnaring some, and I will be damned if Attorney General Garland and the Justice Department don't bring federal charges against many for seditious conspiracy and other charges. Many of these men and women conspired to overthrow the government up to and including January 6th, and many have sought pardons from President Trump!!!
---
More evidence of chicanery and moral turpitude as they attempt to hold on to power, despite demographic changes happening to the United States, by using hyperbolic tactics on cultural issues (wedge issues): 
Republican Party dismantles the Voting Rights Act, piece by piece (source) (source)
Republican Party utterly fails to take climate change seriously (source)
Republican Party cuts deep into a Constitutional right granted to women as long as I have been alive (source)
Republican Party harbors violence white supremacist terrorists because they are part of the "base" (source)
Republican Party bans books for no justifiable reason (source)
Republican Party fails to admit that the 2020 election was fair, leading to continued tribalism (source)
Republican Party hell-bent on gerrymandering and making big money a permanent part of politics (source) (source)
Republican Party partially responsible for the fact that guns now cause more deaths among children than any other cause (source)
Republican Party goes after a private corporation for not towing the line on cultural extremism (source)
These EIGHT examples don't nearly cover the spectrum of unprecedented anti-democratic ideas, schemes, and machinations.
---
I couldn't say it better than famed right-wing judge J. Michael Luttig: "Trump and his allies are a clear and present danger to American democracy."
Mark Green in The Nation also hits a home run. He rightly refers to these goons as what they are: "dangerous extremists":
What else can you call political leaders who condone overthrowing a democratically elected government, incite white nationalists yet don't disavow their violence, allow Covid-19 to spread and kill hundreds of thousands of Americans, want to imprison women who have abortions, support unbridled access to automatic weapons, ignore the climate crisis, menace LGBTQ youth, and routinely disregard norms and laws? And are led by an ex-president who—in a first—put his vice president's life in jeopardy.
I am literally tired of writing. It's all so depressing—especially when considering that the Dems and liberals often shoot themselves in the foot when it comes to mounting a spirited defense of good and justifiable American norms and societal progress (source). I fear the midterm election losses for the sane side of the aisle (mostly) is going to result in an upped ante: it could be a wholesale attempt to bring about a fascist theocracy reminiscent of Mussolini's Italy. It would also be tantamount to an apartheid state: one in which the minority rules with force.
I can't really make it any clearer and any less arguable than I have. If you don't buy what I'm selling, that's your right. But I would maintain you are lost in a sea of right-wing conspiracy theories, culture warring, disinformation, and dereliction of duty.
If you do believe me, you would agree that these radicals deserve to be shown the door in the next election, prosecuted by the Justice Department, and we must all tell the truth.
Stand up and tell the truth! Might I suggest you take your inspiration from many heroes of the past, as popularized by artist Robert Shetterly in his "Americans Who Tell the Truth" series of paintings.
You are also welcome to search The Wisdom Archive for quotations by some of the wisest men and women to come before us; they are like lighthouses in the dark of night.