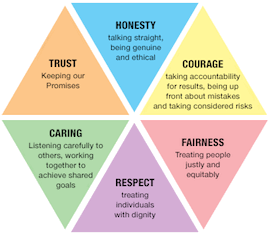 Values is a neutral term; one could value relaxation, competition, humor, sexual conquest, helping others, or swindling them successfully (subterfuge and personal gain). It means what it sounds like it means – a value is something which a person holds in high regard, pursues, and even loves. Values tend to include hallmark ones such as truth, justice, humility, goodness, and kindness. In this blog, I explore the idea of moral values, asking what the term means, which values probably qualify as moral values, and how one implements them in one's life.
Unlike any old value, moral values are those which have a moral element to them. They are good, virtuous, prosocial, and positive.
Someone could literally value bullying or other harmful behavior, but the term moral values would primarily apply to the opposite of bullying: defending one who is being bullied, standing up for what is right, trying not to hurt others – in other words, courage, fortitude, honor, goodness, uprightness, and justice.
Other values typically described as moral values include kindness, charity, love, virtue, helpfulness, honesty, truthfulness, character, magnanimity, altruism, care, caring, solicitude, righteousness, friendliness, generosity, probity, ethicality, morality, beneficence, benevolence, compassion, and quite a few more.
One good way to determine whether a value is really a moral value (or simply something which one appreciates and is attracted to) (e.g., collecting art, travel, fine food, etc.) is to ask yourself if what you are doing or trying to do is something you would feel comfortable about someone else doing to you. This is the essence of "The Golden Rule" and of deontological ethics.
Virtue ethics, as philosopher Colin McGinn said, "are the best way of improving your moral character…is to consider particular moral questions so as to arrive at the moral truth about them and establish important moral principles."
Further, he notes that "a good person is a truthful person: habitual deceivers are not good. And truthful not only to others but to themselves: they seek out and respect the truth for their own consumption, not fooling themselves about where the truth lies. She who loves goodness also loves truth."
Fellow moral philosopher Judith A. Boss writes in her book Moral Theories "Virtue ethics goes beyond pure duty and pure rights-based ethics. It is a direct challenge to the individual to rise above ordinary moral demands and to work toward creating a society in which it is easy for everyone to be virtuous and enjoy the good life." She is slicing it very thin there, but it seems to me that you would want to live in a society where folks are good, helpful, and charitable because they value being the kinds of people who do good, helpful, and charitable things, more so than a society of people who try not to fun afoul of moral rules and imperatives.
If you have an idea of a person (mythological or historical or known to you personally) who is good, virtuous, Christian-like, enviable, fair, honest, caring, respectful, humane or the like, you would do well to imitate them, or at least, occasionally ask yourself how they would act in a given situation. The once-popular idea of "What Would Jesus Do?" brilliant captures the idea of virtue ethics. In a word, a virtuous person does things that other, clearly virtuous people do in similar situations.
Here are a few other thoughts on this topic:
"The main strength of virtue ethics is its emphasis on education and habit formation as guides and channels to good living. It optimistically views the human character as clay, which can be formed in many ways, by family and society, from cradle to grave. Even if it is deformed, it can be reformed. In this system, almost no one is beyond rehabilitation." ~ philosopher Lou Marinoff, author of Plato, Not Prozac!

"The tradition that follows Aristotle is sometimes called the tradition of 'virtue ethics.' It heroically tries to squeeze together what is natural for people, a life lived according to reason, a happy life, and a virtuous life. Its main device is the social nature of the self." ~ Simon Blackburn
Here is what SparkNotes has to say: "The Nicomachean Ethics advances an understanding of ethics known as virtue ethics because of its heavy reliance on the concept of virtue. The word we translate as virtue is aretê, and it could equally be translated as excellence. Something has aretê if it performs its function well. A good horseman, for example, has the aretê of being good at handling horses, and a good knife has the aretê of sharpness. For the Greeks, moral virtue is not essentially different from these other kinds of excellence. The Greeks do not have a distinctive concept of morality like we do, which carries associations of sanctity or duty. Moral virtue is simply a matter of performing well in the function of being human."
In Big Think, Scotty Hendricks considers virtue ethics "a moral system you've never heard of but probably use." He points out the popularity of deontology (associated with big-time 18th-century philosopher Immanuel Kant as well as utilitarianism, at least as famous. These systems help us decide about moral issues and dilemmas. Hendricks writes: "There are, of course, other ethical systems. Prominent among them is the idea of Virtue Ethics, the preferred ethics of Socrates, Aristotle, Confucius, Ben Franklin, Nietzsche and Martha Nussbaum. In recent years this school of thought has seen a resurgence in popularity, especially in the reinterpretation of Aristotelian thought."
It is summed up beautifully in this paragraph:
Virtue ethics differs from Deontology and Consequentialism by focusing on the character of the person rather than the details of a single action. While consequentialism is concerned with the state of the world after an action takes place, and deontology is worried about how closely rules were followed, virtue ethics asks "What does this action say about the character of the actor?" The right thing to do then, is that which demonstrates, encourages, and will habitualize the best character traits.
Hendricks points out that Julia Annas favors the idea of moral development. This is reminiscent of what psychologist Lawrence Kohlberg pioneered decades ago. Here is a good, simple summary of Kohlberg's work on moral values and his snazzy "Heinz Dilemma." This is what Hendricks says Annas indicates:
"In the trolley problem, they might ask 'What would Gandhi do?' before acting. As we grow, we begin to understand the 'why' of virtuous actions, and need less and less to rely on the examples of others when making decisions. Eventually, Annas suggests, we become virtuous people and understand what to do, why to do it, and how to do it ourselves; without the need for outside reference. By developing a set of moral skills, based on practical reason, we can become moral, virtuous, people."
I like that description, and I wish I (and others!) did that to a much greater degree. However, as Nietzsche sardonically said, "The last Christian died on the cross." Ough. Well, we can learn to imitate Jesus – or any number of other live or deceased "good" people. Simply trying, and not being a hypocrite, is a great start.
By the way, the trolley thought experiment is a fascinating one, worth your time.
Finally, it is my belief that moral values is not synonymous with religiosity or Christianity. The Dalai Lama puts the lie to half of that, and to the other, I would offer: "Among the many myths associated with religion, none is more widespread—or more disastrous in its effects—than the myth that moral values cannot be divorced from the belief in a god" ~ George H. Smith. It is also decidedly not the purview of the "moral majority" or other politically-Right factions and interest groups. To wit: "My moral values include peace with economic justice, a society that lives by hope and not fear, a political system that responds to all peoples' needs and not just to the moneyed few, and where religious and spiritual beliefs help build all of us up and not just those whom we deem 'acceptable'"~ John Russell.
---
YOU ARE READING A BLOG ABOUT MORAL VALUES, ETHICS, MORALITY, CHARACTER, AND MORAL DEVELOPMENT ON VALUES OF THE WISE. HERE IS WHERE OTHER BLOGS ON ETHICS AND MORALITY CAN BE FOUND.
---
Here are a few additional quotes relevant to the moral values, such as goodness, character, honor, and integrity:
"Assume a virtue if you have it not, for use can almost change the stamp of nature." ~ William Shakespeare
"There is something even more valuable to civilization than wisdom, and that is character." ~ H. L. Mencken
"All virtues spring from honor." ~ Albanian proverb
"I've always believed you hire character and train skill." ~ Lori Greiner
"Aristotle moves in the direction away from purely egoistic, self-interested, narrow, and extrinsic motivation to one that incorporates both balance and an appreciation of the other person (in the case of pleasure and true friendships). A person develops virtues of character because only these will cause contentment in his soul and allow him to flourish as a person (eudaimonia)." ~ Michael Boylan
"One can acquire everything in solitude — except character." ~ Marie Henri Beyle
"I have in mind the cultivation of the habits of respectfulness and tolerance on which responsible citizenship in a diverse democracy depends. Colleges and universities do this not so much by preaching the virtues of these habits (though they do that too), as by creating an environment in which students are required to interact with others quite unlike themselves — often for the first time in their lives — and to develop the attitudes of open-mindedness and toleration that this demands." ~ Anthony T. Kronman
"Two wrongs don't make a right." ~ American proverb
"The purpose of politics is nothing less than to enable people to develop their distinctive human capacities and virtues—to deliberate about the common good, to acquire practical judgment, to share in self-government, to care for the fate of the community as a whole." ~ Michael J. Sandel
"It is character that will conquer materialism, demonstrate respect for life and property, and stem the tide of violence in our land. It is character that will search for truth and demand diligent scholarship." ~ David L. Davenport
"Great deeds are not done by strength or speed or physique: they are the products of thought, character, and judgement." ~ Cicero
"The just path is always the right one." ~ Yiddish proverb
"…honor is not accorded to virtue because of the office held, but to the office because of the virtue of the holder." ~ Anicius Boethius
"My moral values revolve around community and peaceful coexistence with your neighbors, The community cares if one member cannot afford health care, if one child goes hungry, if one senior citizen has no place to live. My moral values respect differences between members of the community. My moral values means I give back to the community for the less fortunate members who may not be blessed with the essentials of safe, healthy environment. People are more important than any labels. My moral values allow me to accept and admit my mistakes." ~ David Loss
"…the moral challenge is to carry out our pursuits with character, to treat ethics as a ground rule, not an option, even when the standards of ethics impede our ability to get what we want." ~ Michael S. Josephson
"It's the tough decisions that really test our character, for character is revealed when the price of doing the right thing is more than we want to pay." ~ John Naber
"Modern theories of justice try to separate questions of fairness and rights from arguments about honor, virtue, and moral desert. They seek principles of justice that are neutral among ends, and enable people to choose and pursue their ends for themselves. Aristotle (384–322 B.C.) does not think justice can be neutral in this way. He believes that debates about justice are, unavoidably, debates about honor, virtue, and the nature of the good life."~ Michael J. Sandel
"My moral value is based on the Golden Rule "do unto others as you would have done unto yourself." My moral values would not allow me to vote for a man who obviously does not live by that standard, and has the gall to call himself a Christian." ~ Genevieve Riquier
"If there is one word that describes the meaning of character, it is the word honor. Without honor, civilization would not long exist. Without honor, there could be no dependable contracts, no lasting marriages, no trust, or happiness." ~ Ezra Taft Benson
"Our country is in for some rough times. It has come about because we are competitive, greedy, and find no problems with owing money to people/companies. Once we learn these are not good values to live by, maybe we can start crawling back up the morality path. It is not going to be easy." ~ Ellen A. Herda
"It's not so much staying alive, it's staying human that's important. What counts is that we don't betray each other." ~ George Orwell
If you liked this piece on moral values, and want to stay here on Values of the Wise, try reading this blog about ethics and values.
Here is a little (external) primer on virtue ethics.