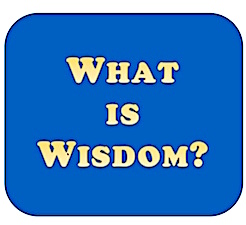 Second in a series called What is Wisdom?, this blog seeks to provide some more definition to the concept. Wisdom is one of those skills/values that is difficult to understand and to define. In the first segment of this series, I approached the question what is wisdom? by noting it is an ability to correctly predict outcomes. This second segment takes a cue from the noted philosopher Robert Nozick's book The Examined Life; specifically, his twenty-third chapter entitled "What is Wisdom? Why Do Philosophers Love It So?"
The late, distinguished Harvard University philosopher Robert Nozick wrote an interesting book in 1989 entitled The Examined Life: Philosophical Meditations. Damn, I wish I had thought of that title! A number of folks don't find the book very laudable, but I liked it. I certainly liked the chapter literally entitled What is Wisdom?, a perfect chapter to digest for this series (and yes, I created the series a couple of weeks ago, and just the other day found the wonderful chapter in question). Here are some of the highlights (with his words in black, and my commentary or others' quotes in blue):
Philosophy means the love of wisdom. What is wisdom? How shall it be loved? Wisdom is an understanding of what is important, where this understanding informs a (wise) person's thought and action. Things of lesser importance are kept in proper perspective. I like that last sentence, especially because I am prone to obsessive-compulsive thinking; I can spend way too much time thinking way too seriously/anxiously about a topic, and often forget to stop and smell the roses, or remember that the small stuff doesn't matter as much as we sometimes feel. 
"Is wisdom best attained by sitting in a book-stuffed studio on Riverside Drive, reading Freud and the existentialists, engaging in intense debates with an insular crowd, most of whom live within a few square miles? Or is it gained through broader experience with the world, by putting one foot in the river of mainstream life and then reflecting on what you found there?" ~ David Brooks
Wisdom is special in three ways, Nozick points out: in the topics it concerns – the issues of life; in its special value for living; and in its being universally shared.
Something that everyone knew might be important, but would not count as wisdom. This is contrasted with the idea that wisdom is merely "common knowledge" or "common sense". It's not exactly rocket science, but it's not something that everyone "has" consciously or subconsciously.
Wisdom is practical; it helps. Wisdom is what you need to understand in order to live well and cope with the central problems and avoid the dangers in the predicament(s) human beings find themselves in.
If wisdom is a certain kind of knowledge or understanding, we are committed then to valuing that kind of knowledge and to saying the best or highest life itself contains at least some of it. The best life is that of understanding has been said since at least Aristotle, probably since Socrates, as he believed that "The unexamined life is not worth living." I'm sure Mr. Nozick would agree, based on the title of this book.
"The best teachers of humanity are the lives of great people." ~ Charles H. Fowler
Wisdom is not just knowing fundamental truths, if these are unconnected with the guidance of life or with a perspective on its meaning. If the deep truth physicists describe about the origin and functioning of the universe have little practical import and do not change our picture of the meaning of the universe and our place within it, then knowing them would not count as wisdom. "True wisdom is to know what is best worth knowing, and to do what is best worth doing." (Edward Porter Humphrey)
Wisdom is not just one type of knowledge, but diverse. What a wise person needs to know and understand constitutes a varied list:
the most important goals and values of life — the ultimate goal, if there is one;
what means will reach these goals without too great a cost;
what kinds of dangers threaten the achieving of these goals;
how to recognize and avoid or minimize these dangers;
what different types of human beings are like in their actions and motives (as this presents dangers or opportunities);
what is not possible or feasible to achieve (or avoid);
how to tell what is appropriate when;
knowing when certain goals are sufficiently achieved;
what limitations are unavoidable and how to accept them;
how to improve oneself and one's relationships with others or society;
knowing what the true and unapparent value of various things is;
when to take a long-term view;
knowing the variety and obduracy of facts, institutions, and human nature;
understanding what one's real motives are;
how to cope and deal with the major tragedies and dilemmas of life, and with the major good things too.
"Wisdom is not a product of schooling but of the lifelong attempt to acquire it." ~ Albert Einstein
A wise person knows diverse things and lives them. Someone who only knew them, who offered good advice to others yet who lived foolishly himself, would not be considered wise. As I wipe the sweat from my brow and an awkward smile grows on my face… 
Wisdom does not guarantee success in achieving life's important goals, however, just as a high probability does not guarantee truth. The world must cooperate, too. This is pretty deep stuff here. "A wise man turns chance into good fortune" Thomas Fuller said. I mean, wise persons are less likely to get hit by busses when crossing the street, why? Because they have developed the habit of looking both ways before crossing streets. They aren't very likely to pick up a sexually-transmitted disease from a one-off encounter. They pay their taxes and keep strong fences up between their neighbors and themselves. Eventually, the life of a wise person will start to look much luckier, skillful, and successful than the rest of the flock just as a lizard who can blend in with its surroundings will likely survive into the future. It's not guaranteed, but it is likelier. 
"My approach to studying wisdom is basically "What does it mean to be wise? What is wisdom?" And I think that wise persons would favor broad-mindedness over narrow-mindedness; believe that paying a share of our resources is necessary to help others who are unlucky or even foolish; and that they favor progress socially rather than attempting to ensure that certain people and certain ideas stay locked up and restricted." ~ John A. Marshall
Wisdom can be partial in the part of human life it is concerned with, as when people are (said to be) wise about specialized affairs – one about economic affairs, another about foreign affairs, another about raising children…. Rather, it is a wisdom about what is common to all of our lives, about what (we judge) it is important for any normal human life to be concerned with. …it is that sense which enables us to say of someone, for example, that although he may have been wise about business matters he was not a wise person. I have seen people who "leave much to be desired" though they are very skilled and even prestigious in a certain slice of life – their profession, let's say. I know a physician who was literally ranked as the best researcher in the country in the field I needed a surgery for, and yet his toupee was ridiculous. He literally looked in the mirror every morning and thought that this jet-black, chaotic thing was sufficient or even handsome. I almost hesitated to let him operate on me!
In answering the question What is wisdom?, Professor Nozick continues on page 273: To be wise, it is not necessary to be able to pass the severe test of being grilled by Socrates, either on the general notion of wisdom or on the particular thing one is wise about. …a particular wise person might teach by his or her example or by invoking an appropriate proverb or platitude – knowing which to invoke when. As a lover of quotes about wisdom, I thank you for that, Mr. Nozick! Well, you know how they say that parents don't get a rule book, and that they do the best they could? This is relevant to wisdom because it takes not knowledge and skill as much as wisdom and other values such as love and patience to know what to do with your growing child, to what extent, and when. Mistakes can easily be made in all four cardinal directions when it comes to child-rearing.
"Wisdom is a very elusive thing. Someone told me once that we often have the experience but miss the wisdom. Wisdom comes, if at all, slowly, painfully, and only after deep reflection." ~ Bill Moyers
What thing is it, then, that a wise person will deem most important? It is tempting to answer (or sidestep the issue by saying) what matters most – the supreme good – is wisdom itself. Its importance as a means is clear; you are far more likely to live rightly if know what is important and valuable…. Nozick finishes that sentence with "and also know the dangers and hazards of life and how to cope with them" but I felt that just doesn't make the sentence as snappy with that included. There is definitely a sense of the self that comes through; responsibility if you will. One can't stumble onto wisdom or have it gifted to them; Nozick writes: A lucky person would, through no virtue of his own, gain many particular goods [in life]. He would not, however, be living wisely; he would not be exercising his own knowledge and intelligence to shape his life and himself. 
In seeking more wisdom and attempting to live wisely, …wisdom has intrinsic, not merely instrumental, value. By this, he means that wisdom is loved for itself, not because it can make one rich or famous or superior. He continues: Philosophers frequently have wanted to say that it is wisdom that can bring the greatest happiness. Can one be happy if they don't possess a certain amount of wisdom? You know, the happy fool. He divides the possibilities into four: first, wisdom conjoined with happiness; second, wisdom without happiness; third, happiness without wisdom; fourth, neither happiness nor wisdom. Which would you want if you had the choice? One of his final statements in this paragraph (p. 274) is, Since wisdom is extremely valuable in itself, possessing it and recognizing that fact will by itself produce deep happiness….
"The wisdom of the wise and the experience of the ages are perpetuated by quotations."~ Benjamin Disraeli
A related point is exemplified by: If something else is more important than wisdom, then wisdom, knowing what is important, should be able to tell us that. Nozick uses the metaphor that A road sign that points to a city is not more important than the city. He continues: It is part of wisdom to understand what things are most important in life and to guide one's life by that; we cannot short-circuit that understanding by announcing simply that the very most important thing is wisdom itself. Yet we can produce reasons for valuing wisdom greatly. His concluding remark is: Hence, wisdom is not simply an important means to other ends but itself is one important end, an intrinsic component of one's life and self.
Wisdom is not simply knowing how to steer one's way through life, cope with difficulties, etc. These are instrumental benefits or ends of wisdom. It is also knowing the deepest story, being able to see and appreciate the deepest significance of whatever occurs…. He goes on to refer to ultimate goods, not just proximate goods, as well as appreciating ramifications. 
Nozick points out that wisdom is funny [my word] in that it has to be general enough to apply to multitudinous circumstances, but specific enough that it be …precise enough to decide by themselves difficult life choices or resolve particular dilemmas. This includes Aristotle's principle of choosing the mean between two extremes…. If you aren't familiar with Aristotle's ethics, for example, the "golden mean," here is a website you can try. He asks, Yet why cannot general principles be formulated to apply to each and every situation yet are precise enough to specify particular courses of action to be followed in them? He goes on to say I'm not sure of the answer, but there is an analogy to scientific knowledge that seems helpful (p. 277). He does end the section with: Wisdom about life too, as does scientific knowledge, takes a holistic form. There is no formula to learn and apply.
"While daily we may act morally by not causing harm or by being nice and do not have to consciously reason about these actions, we do need to examine the fundamental moral beliefs that underlie them and come into play when we must make significant moral decisions."~  Jack Hernandez
What is wisdom? Oftentimes it gets play in the realm of ethics; of moral decision-making and dealing with moral dilemmas. For example, unlike what Immanuel Kant would have us think, having one single, discreet, multi-purpose principle, rule, or maxim that you plug into various moral dilemmas is not the best way to reason. It might not be possible.
Instead, the process requires more activity, debate, contemplation, deliberation, reconsideration, and decision-making. Know some moral theory, and then try a particular case on for size in the way that a student of karate learns and practices the techniques, but cannot anticipate any one particular situation. Be a generalist. 
"A higher level of understanding, almost an intuition, of knowing when experience should guide decisions and when you have to throw out the experiential playbook and literally do a rethink. In this highly specialized form of understanding, you would have an intuitive feel for knowing which decision-making system served you best. In other words, wisdom is not simply a matter of knowing the best answer to a problem or dilemma; it is a matter of knowing the best approach for finding the best answer." ~ Stephen S. Hall
Question, argue, reform, and defend. Be willing to change when reasons dictate it. This is how, ideally, a citizen and moral agent behaves. It's Socratic; it's Aristotelian; it's wise; it's practical and reasonable. It's how we empower ourselves as persons. One answer to the question, What is wisdom? is that it is critically thinking about an issue and trying not to let one's biases, emotional wants and wishes, and subconscious mind hold the steering wheel.
Moral philosopher John Rawls' concept of 'reflective equilibrium' is part and parcel of this meta-process. Indeed, he said (in a complex manner, as was his way): 'A conception of justice cannot be deduced from self-evident premises. Its justification is a matter of the mutual support of many considerations, of everything fitting together into a coherent view.' Ralph Wills put a similar idea more succinctly: 'When has justice ever been as simple as a rule book?' 
"Tiny in a world of giants, we reason that surely the world is governed by those who know, who understand, who are in control. How disconcerting it is then when we find our own psyches in revolt at these once protective adaptations, and how disillusioning it is to realize that there are very few, if any, adults on the scene who have a clue as to what is going on." ~ James Hollis
What is wisdom? It has much to do with believing we are grown up, capable, and responsible for living our life rightly and carefully and spiritually.
That quote can seem disheartening, but I think it can be bracing but freeing to realize that existential truth that we are all we have. Let us make the most of our time on this pebble circling a star at 1,000 miles per hour, because we have no guarantees, no saviors, and no quarter. "In the midst of winter, I finally learned that there was in me an invincible summer." ~ Albert Camus
---
Here is the first of the segments in this series, What Is Wisdom?
---
keyword phrase: what is wisdom?