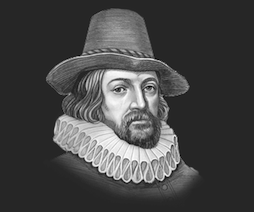 Sir Francis Bacon
You may know of the eminent historian, writer, psychologist, philosopher, and anthropologist all rolled into one, Will Durant. He died in the late twentieth century, but was truly a man of letters and a wonderful writer. I found a neat little book, compiled after his death by John Little. It is a compilation of his writings that involved rankings of merit. The first real chapter in the book is "The Ten Greatest Thinkers," though the two men put greatest in quotation marks, as I suppose they should, since great is really a subjective term. My intention in this blog is to share which ten men (yes, they are all men) he thinks shine the brightest among history's renowned philosophers and scientists, and include a quote of each.
First, why Durant? He was a prolific writer and very well-regarded by all manner of folk. Addressing the question, Little writes: "It is entireily understandable that Durant should find himself asked to answer such questions. Any time a man spends over half a century researching and writing an eleven-volume integral history of civilization, it is natural that people are going to want to know what conclusions he has drawn from the enterprise; to know what eras, individuals, and achievements stood out in his mind as being the greatest or most significant."
I was very impressed by hisbook The Story of Philosophy, and it is one of the most read philosophy books ever. Though Will Durant can come across as a bit esoteric and elitist, I don't think it is a kind of smarmy, self-benefitting elitism; he is just a product of the early twentieth century, and is a man, and so on. He is aware of some of this, though. And, he defends it:
For why should we stand in reverence before waterfalls and mountaintops, or a summer moon on a quiet sea, and not before the highest miracle of all: a man who is both great and good?
I am not terribly "post-modern"; I'm a sucker for old books and philosophy and intellectual heritage, and the fact that women accorded short shrift, or African Americans didn't get their due, is a concern when I think about politics, sociology, and so on; egalitarianism and social niceties are not my primary concern when it comes to science, psychology, philosophy, and other such subjects. I can forgive Durant of any imperfections that mark most men of his time.
He begins his account of the greatest thinkers of all time with the apt question, "What is thought?" It's a fair beginning, though it will distract us from this endeavor. His next paragraph heading is "The Adventure of Human Reason." That's how he writes! Very florid and beautifully, full of pith and drama. Check this little gem out:
At every step on the stairway of progress it was thought that lifted us, slowly and tentatively, to a larger power and higher life. If ideas do not determine history, inventions do; and inventions are determined by ideas. Certainly, it is desire, the restlessness of insatiable wants that agitates us into thinking; but however motivated and inspired, it is thought that finds a way.
He asks, "What shall be our test of greatness?" The criteria are "ruthless and dogmatic," and involve lasting impressions and influences left by ten individuals – and not in art, or in politics, or in poetry, or engineering/invention. Scientists and philosophers. He laments he excludes the likes of Leonardo, Lucretius, Euripides, Dante, Shakespeare, Goethe. Augustine, Buddha, Luther, and Jesus are out because they are founders or developers of religion. As well, nix the Pericleses and the Alexanders of the world's history. "We shall seek for those men who by their thinking, rather than by their action or their passion, have most influenced mankind." And now, the greatest thinkers of all time according to scholar and humanistic giant, Will Durant:
Confucius: he was a moral philosopher, not the founder of a religion, after all. "His call to the noble life was based on secular motives rather than upon supernatural considerations…."
(Quote from Confucius): "The illustrious ancients, when they wished to make clear and to propagate the highest virtues in the world, put their states in proper order. Before putting their states in proper order, they regulated their families. Before regulating their families, they cultivated their own selves. Before cultivating their own selves, they perfected their own souls. Before perfecting their own souls, they tried to be sincere in their thoughts. Before trying to be sincere in their thoughts, they extended to the utmost their knowledge."
He goes on to add "Such investigation of knowledge lay in the investigation of things, and in seeing them as they really were." Confucius then reverses order and goes from atomic to cosmic: for example, he continues then with: "When things were investigated, knowledge became complete. When knowledge became complete, their thoughts became sincere." And so on, up to "When their states were in proper order, then the whole world became peaceful and happy." There you have it, first among the greatest thinkers of all time.
2. Plato: Well, to be exact, one of history's other greatest thinkers, Socrates, is kind of rolled into Plato, since Plato was a tireless and long-lived exponent of the very philosophy he learned from Socrates (who never wrote one thing down). Thus, the lines between these two become blurred. Essentially, the first half of Plato's writings are recapitulated Socrates, anyway.
"Why do we love Plato," Durant asks? "Because Plato himself was a lover of comrades, lover of the intoxication of dialectical revelry, passionate seeker of the elusive reality behind thoughts and things." He continues: "We love him for his unstinted energy, for the wild nomadic play of his fancy, for the joy which he found in life in all its unredeemed and adventurous complexity. We love him because he was alive every minute of his life, and never ceased to grow; such a man can be forgiven for whatever errors he has made." Indeed, Durant admires his passion, zeal, intelligence, range, longevity, imagination, and humor. Philosopher Colin McGinn adds this:
"There is one type of virtue which is less familiar to people in today's world, but to Plato was the key; the most important virtue. That's the virtue of knowledge. So, what makes life valuable according to Plato is the acquisition of knowledge. That makes life the most valuable that it can be."
3. Aristotle: "…an intellect of almost unbelievable range and depth." He goes on to lavish this praise upon Plato's Macedonian student: "Here are new sciences, founded with almost casual ease, as if these supreme collections of the human intellect were but the recreations of a philosopher; here it is that biology appears, and embryology, and logic. Not that no man had ever thought of these matters before, but that none had controlled his thinking with patient observation, careful experiment, and systematic formulation of results. Barring astronomy and medicine, the history of science begins with the encyclopedic labors of the tireless Aristotle." How, high praise indeed! In fact, in the Middle Ages he was simply known as "The Philosopher." I see why this man is one of history's greatest thinkers – made even more amazing since most of what we have in writing from Aristotle are but notes!
"You will never do anything in this world without courage. It is the greatest quality of the mind next to honor." ~ Aristotle
4. Thomas Aquinas is on the list. This is how he praises this fourth of science/philosophy's greatest thinkers:
"What Dante did to the hopes and fears of the Catholic Renaissance, Aquinas did for its thought: unifying knowledge, interpreting it, and focusing it upon the great problems of life and death. The world does not follow him now, preferring a doubting Thomas to a dogmatic one, but there was a time when every intellect honored the Angelic Doctor, and every philosophy took his gigantic [book] Summae as its premise."

"Three things are necessary for the salvation of man: to know what he ought to believe; to know what he ought to desire; and to know what he ought to do." ~ Thomas Aquinas
5. Nicholas Copernicus. The almost-accidental discoverer of the heliocentric universe. Durant describes him thusly: "That pious Polish monk, sitting patiently before the baffling stars, had meant no harm; he had no suspicion of the bearings of his thought on the future of belief… he was sure the truth must be good and beautiful, and would make men free." No, ask Giordano Bruno or Galileo. Never underestimate the depravity of a Renaissance Pope! Durant continues:
"By the magic of his mathematics, he transformed a geocentric and anthropocentric universe – a world that revolved around the Earth and man – into a kaleidoscope of planets and stars in which the Earth seemed but a moment's precipitation of a floating nebula. Everything was changed – distances, significances, and destinies." He goes on to note that God also "disappeared into the far reaches of an illimitable space." Hence the ire of the Popes. And thus Durant's and my praise.
I have few quotes by Copernicus, disappointingly, but here is a neat one by the luminary, Ralph Waldo Emerson:
"Is it so bad then to be misunderstood? Pythagoras was misunderstood, and Socrates, and Jesus, and Luther, and Copernicus, and Galileo, and Newton, and every pure and wise spirit that ever took flesh. To be great is to be misunderstood."
6. Francis Bacon is the sixth most profound and influential of the world's greatest thinkers. That makes sense; it seems like Bacon never slowed down for a minute. He was involved in English court, penned a hugely influential tome called the Novum Organum, and virtually changed the direction of science henceforth. His Idols are most interesting, too, in the history and philosophy of science. Here is how Durant praises this genius:
"Oh, the zest of those bright Renaissance days, when the poverty of a thousand years was almost forgotten, and the labor of a thousand years had made men richer and bolder, scornful of barriers and bounds! The flash of those alert eyes, the rich blood in those strong frames, the warm colors of their luxurious raiment, the spontaneous poetry of that impassioned speech, the creative insatiable desires, the search and sweep and fearlessness of the newly-liberated minds – shall we ever now these days again?"
That is just wonderful writing, and it typifies the world and the influence of Sir Francis Bacon, "who carried in his brave soul, beyond any other man of that spacious age, the full spirit and purpose of the modern mind."
"All histories that live in our hearts are peopled by archetypes in mythic narratives, and such I believe is part of Francis Bacon's appeal and why his fame endures. In the tableau of the Enlightenment, Bacon is the herald of adventure. There is a new world waiting, he announced; let us begin the long and difficult march into its unmapped terrain." ~ Edward O. Wilson
"To go beyond Aristotle by the light of Aristotle is to think that a borrowed light can increase the original light from which it is taken." ~ Francis Bacon
7. Isaac Newton, that finicky, solitary hyper-Christian and alchemist, makes number seven on this most-hallowed of lists: history's greatest thinkers. "…Newton's [heralded book] Principia Mathematica marked the quiet assumption, by science, of its now-unchallenged mastery over modern thought; the laws of motion and mechanics as established by Newton became the basis of all later practical advance…." Voltaire, Bronowski, Hawking, Durant – all men of sufficient wisdom credit Newton with much that is remarkable. Here is physicist Brian Greene on Newton:
Many sung and unsung heroes contributed to the rapid and impressive progress that was made, but Newton stole the show. With a handful of mathematical equations, he synthesized everything known about motion on earth and in the heavens, and in so doing, composed the score for what has come to be known as classical physics.
Mysticism gripped Newton his whole life. He may have made himself sick from too much experimental alchemy. In fact, next to a startlingly fresh and prodigious intellect and his foul temperament and poor social skills, lies his lifelong interest in the Bible: "Gravity explains the motions of the planets, but it cannot explain who sets the planets in motion." (Newton)
8. Voltaire, one of my favorite. He clearly belongs on this list of mankind's most incisive and greatest thinkers. Though "it will shock scholastic minds to see Voltaire included among the supreme thinkers of mankind, [because] they will protest that his thought was borrowed rather than original, and that his influence was immoral and destructive," Durant claims. Well, that may be true. He was kind of a crustily aristocratic and effete man, but he was fighting dogmatism, superstition, monarchy, arbitrariness, and classism, so I can get behind him.
About this scintillating French essayist, author, and sometimes-scoundrel, Durant offers: "Things came to him dull and he made them radiant; things came to him obscure, and he cleansed and scoured them with clarity; things came to him in useless scholastic dress, and he clothed them in such language that the whole world could understand and profit from them. Never did one man teach so many, or with such irresistible artistry." It has been said that he made the crowned heads of Europe quake with fear of his mighty quill, and that is a fantastic thing. Durant even heaps this great praise on one of history's most creative, courageous, and greatest thinkers: "When we forget to honor Voltaire, we shall be unworthy of freedom."
"Work saves us from three great evils: boredom, vice, and need." ~ Voltaire
9. Immanuel Kant, Germany's foremost libertarian. Durant describes this rationalistic man thusly: "The supreme figure in this idealistic development was Kant, perfect archetype of the abstract philosopher. He, who traveled much in Konigsberg, and from is promenaded streets saw the starry heavens melt into a half-unreal phenomenon, transfigured by perception into a subjective thing. It was Kant to labored best to rescue mind from matter; who argued so irrefutably (because so unintelligibly) against the uses of 'pure reason'; and who, by the prestidigitation of his thought, brought back to life, magician-wise, the dear beliefs of the ancient faith."
This is not my favorite eulogy for a thinker, but Durant knows what he is talking about. Indeed, he notes that "The world heard him gladly, for it felt that it could live by faith alone, and did not love a science that merely darkened its aspirations and destroyed its hopes."
"Immanuel Kant lays out in his lays out his philosophical views in Critique of Pure Reason, suggesting that humans are capable of ordering their sense-experiences into intelligible unities by using their perceptual abilities. While these unities – especially those of God, freedom, and immortality – cannot be known or proven in and of themselves, humans can conclude through 'pure reason' that they do exist." ~ Colin McGinn
"No-one can compel me to be happy in accordance with his conception of the welfare of others, for each may seek his happiness in whatever way he sees fit, so long as he does not infringe upon the freedom of others to pursue a similar end…." ~ Immanuel Kant
10. Charles Darwin, England's finest scientist to date. Of this indisputably greatest thinker of the 19th century, Will Durant believes "We cannot know what Darwin's work may finally mean in the history of mankind. But it may well be that for posterity his name will stand as a turning point in the intellectual development of our Western civilization. If Darwin was wrong, the world may forget him as it has almost forgotten Democritus and Anaxagoras; if he was right, men will have to date from 1859 as the beginning of modern thought."
This was written in probably 1950-1965, so I think in the interceding years, time has only been good to Darwin. The fact that we here in the South (and occasionally the Midwest) try to teach the youth "creationism" is a barometer of our benightedness, not the legitimacy or power of Darwin's theory of evolution by means of natural selection.
"Darwin was not afraid to look deeply into the void. His bold view can be seen as either noble and pessimistic or noble and admirable. For people of science, he is a hero. Denying man a privileged place in creation, … he reaffirms with his own intellectual courage the dignity of man." ~ Primo Levi
"If I had not been so great an invalid, I would not have done so much work as I have." ~ Charles Darwin
You can find quotations by and about these ten world's greatest thinkers – including Will Durant himself – in the stout Wisdom Archive, a searchable quotations database of magnificent proportions. Look up also Jacob Bronowski, Jacques Barzun, Stephen S. Hall, Ann Druyan, Carl Sagan, E. O. Wilson, Mortimer J. Adler, Robert Maynard Hutchins, Daniel N. Robinson, Noam Chomsky, and George Santayana.